Posted:
December 14th, 2009 |
Author:
Finn
|
Filed under:
Features
|
Tags:
Greg Wilson
,
Interview
,
Rewind
,
sounds-like-me.com
,
The Temptations
|
No Comments »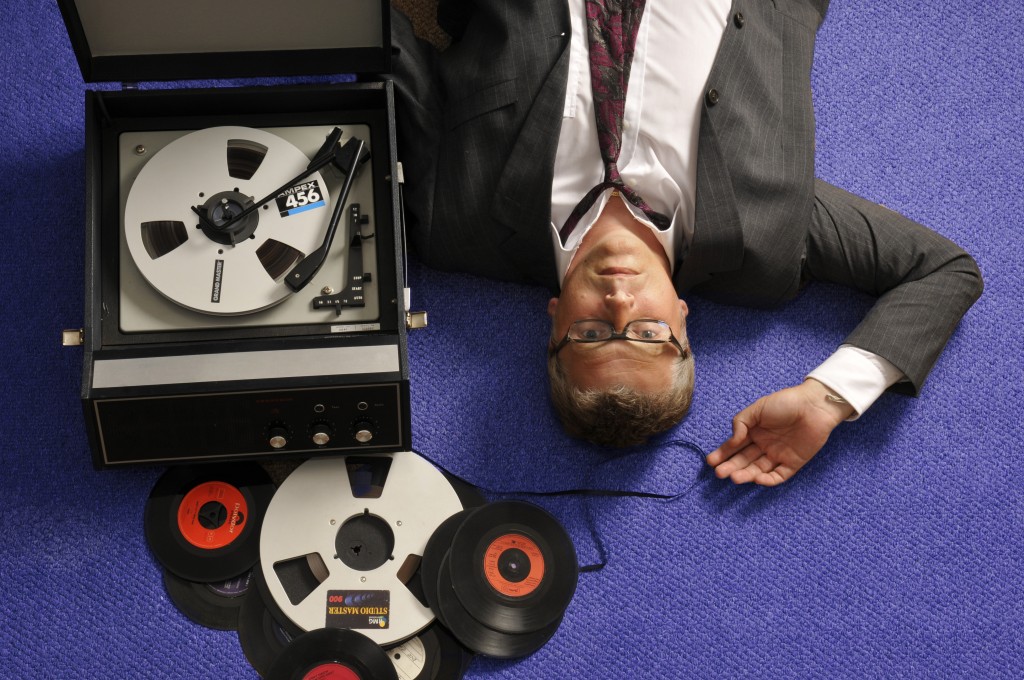 In discussion with Greg Wilson on "Ball Of Confusion (That's What The World Is Today)" by The Temptations (1970).
What is your personal history with this particular song and why did you choose it?
I suppose if I was put on the spot and asked to name my favourite all-time singles, this would be one of those that would immediately spring to mind.
My older brother and sister, like many teenagers growing up in the 60's, regularly bought singles (7″ only in those days of course). They were both into Soul, with Tamla Motown, Stax and Atlantic releases making up the majority of what they owned. These singles gradually fell into my possession and became the foundation of my record collection.
This was one of those records, and the moment I heard it I was awestruck! From the count-in at the start, which I now know was the producer, Norman Whitfield, and the bass line intro, which I now know was a Funk Brother, Bob Babbit, it's clear that you're boarding an aural rollercoaster. And then the vocals come in, and what an opening salvo:
"People moving out, people moving in,
Why? Because of the color of their skin,
Run, run, run, but you sure can't hide…"
We've barely started, yet the picture already painted leaves you in no doubt that we're dealing in harsh realities here. The track is a snapshot of a point in time – with the 60's moving into the 70's it reflects the plight of black Americans, disillusioned by the slowness of change when it comes to their personal freedoms, whilst inhabiting a world that's been changing at breakneck pace. As they try to make sense of the situation they find themselves in, things only become ever more bewildering, the title of the song perfectly capturing the mood of the moment.
Everything about this record is on a higher plane – the song, the vocals, the musicians, the production, it's a whole crew of people right at the top of their game.
Having made such a strong impression on me, a white boy, I couldn't begin to imagine how someone who was black would feel listening to this record. Years later I got my answer when interviewing Les Spaine, one of the DJs who inspired me back when I was starting out. This is what he told me:
"The Temptations were God. You waited religiously for any new Temptations record and I think we grew with them, you know. Afros were growing, political awareness was growing. Norman Whitfield, for me, timed it so well because I was reading Eldridge Cleaver, Huey P. Newton, Angela Davis, all those people. I wasn't a militant, it was just, you know, people were frightened of certain things in America, but what they didn't realise is that all of a sudden you got an understanding and, hang on, there's some brothers and sisters here that can do a bit more than running and singing and boxing, which is not degrading. Not putting down any of those three things – that's what we're supposed to be good at. All of a sudden, here's some academics here and the music evolved from just 'scooby-dooby-do-wah-wah' to like some of the stuff the Temps were singing. Whitfield got a bit long-winded with seventeen-and-a-half minute tracks with two minutes of vocals but, as a young man, I was really into all that underground…
To the majority of the black race, the Temptations were our Beatles. A new Temptations album came out, you bought it and then you listened to it. You didn't go and sit in the box, because you used to have listening booths then, you just bought it. I always remember, it was really funny, I remember buying 'Ball Of Confusion' and I put it on and I left the arm off the machine so that it would go back to it and go back to it, and my dad, who was really one of the most laid back blokes I know, after about two-and-a-half hours of this, must have got fed up of hearing 'and the band played on' and just walked into my room, took it off, snapped it and walked off!"
Full interview here.
How did you experience the political, social and cultural climate the song reflects?
I was just a kid, aged 10 when this was released, fresh out of primary school, but, despite my obvious naïveté, tracks like this, along with others including Sam Cooke's 'A Change Is Gonna Come', Marvin Gaye's recording of  'Abraham, Martin And John', Edwin Starr's 'War' (another Norman Whitfield / Barrett Strong composition, originally recorded by The Temptations, Starr's version also produced by Whitfield) and even stuff like 'Love Child' by The Supremes and Clarence Carter's 'Patches', really struck a chord with me at the time and got me thinking about deeper issues. This is a perfect illustration of the power of music to inform, although the main connection was on an emotional rather than an intellectual level – Soul music, even when the lyrics weren't really saying anything poignant, could still affect me in a profound way.
I remember thinking 'how can these people be treated so badly when they make such wonderful music'. I was certainly aware of the racist (or racialist as they said back then) attitude that black people were somehow lesser than whites – Enoch Powell's infamous 'Rivers Of Blood' speech had taken place a few years earlier and I'd no doubt picked up on the race / immigration debate via the TV, newspapers and overhearing peoples' conversations on the subject, it was certainly a hot potato of an issue back then.
Although I didn't know any black people at the time, unlike many others of my age I fortunately wasn't burdened with the ignorance and prejudice of the previous generation. I never heard any racist remarks from my family, to the contrary, my father was a big boxing fan and his hero was Mohammed Ali (going back to when he was still Cassius Clay), so my own first impression of a black man was totally positive.
I think it was my sister who explained racism to me, and the whole thing crystallized via these remarkable records, which connected with me on a deeper level than the music by white Pop artists (which I was also very much into) because I realized, at a very young age, that this Soul music was tied into a greater struggle. Read the rest of this entry »
---