Posted:
December 28th, 2009 |
Author:
Finn
|
Filed under:
Features
|
Tags:
iamelectron
,
Interview
,
Primal Scream
,
Rewind
,
sounds-like-me.com
|
No Comments »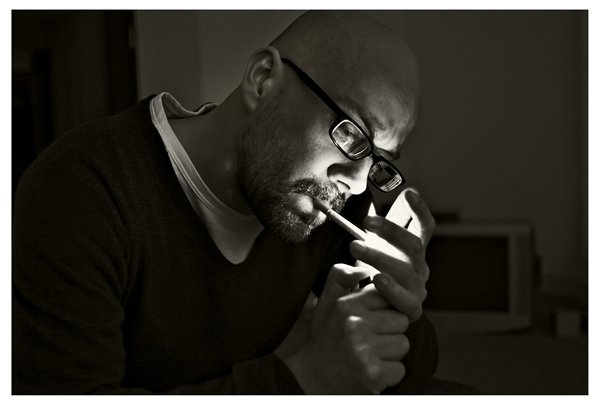 In discussion with iamelectron on "Don't Fight It, Feel It" by Primal Scream (1991).
This single is an outtake of Primal Scream's seminal "Screamadelica" album. What is so important to you about this track that you chose to discuss it, and not the whole album?
The album as a whole is an amazing creation (excuse the pun) but it's "Don't Fight It, Feel It" that means the most to me. Every time I hear it I'm back in 1991 and it still gets the hairs standing up. It's one of those songs that I'll never be able to disassociate from the state, time or place I was in when I heard it.
How do you have 1991 in mind, especially compared to the years shortly before and after? What made that year special?
The summer of 1991 was a major point in my life. It was when I decided to pack in Art College and give the DJ game a serious go. I've been around electronic dance music in one form or another for quite a while. I was, and still am a huge fan of New Order, and some friends and I started a Joy Division/New Order cover band at school called Funeral in Berlin. I had the bass and the pony tail so I was Hooky, haha! Then I got involved in a Goth Disco band. Don't laugh! We covered Dead or Alive, Sylvester, The Fine Young Cannibals and our Hi-Nrg version of "Jolene" was legendary (to about five people). So I was really into the sound of drum machines and synths. But it wasn't until I went to Edinburgh Art College in '89 that house and techno really hit me. I stayed in halls of residence for my first year. In the room around the corner from me was this guy from Aberdeen and he was always with this girl from college that I had the major hots for but was too shy to approach. So one day I went up and introduced myself to him in the hope that he'd introduce me to said lovely lady. I never got the girl, but I did get introduced to Acid House. My new friend lent me copies of "The House Sound of Chicago" and the first Jackmaster compilation, and I was blown away by the rawness of it.
So I started hunting down more records. I'd done a few bits of DJ'ing before, playing at indie disco things with a few electronic tracks thrown in; Factory releases, Tackhead, Nitzer Ebb, early Ministry/Revolting Cocks, The Residents that sort of stuff – and now I was sticking in these new House tracks, completely unmixed I must add because I had no concept of how to put two records together at that point. I started to meet more people at college who were into the House scene and we'd head down to nights like UFO; a short lived weekly party in Edinburgh that Optimo's JD Twitch ran before he created the infamous PURE night (with his DJ partner Brainstorm).
Then in 1990 Glasgow became the European City of Culture and with that came late licensing laws and Atlantis at the Sub Club (with residents Harri and Slam) so we'd head over there and got to catch the first touring DJ's like the Boys Own and Flying gangs. Then a friend and I started driving down from Scotland to London to go to clubs there. I was being consumed by House! By now I'd completely lost interest in actually getting a degree and to my parent's dismay I moved back home (home being St Andrews, a very small, very insular University town on the East Coast of Scotland) to 'take a year out'. I'd unintentionally timed my move with the opening of a night in the nearby city of Dundee called the Rumba Club, and from the spring of 1991 to Christmas of that year it was absolute chaos! During those eight months Weatherall played three times – and on his second visit he dropped "Don't Fight It, Feel It" as his very last song. I had never heard a reaction to a record like the one he received that night – and I don't think I've heard a reaction like it since. When the whistle noise, stuttering percussion and that wobbly bass line started the place erupted – it was madness!!! I'd love to hear a recording of his set because I'm sure he was mixing both sides; starting with the A side and then moving onto the "Scat Mix". When that deep, deep, bass noise he briefly uses in the track came on the place went up another gear. So I'm on a packed dance floor going nuts to "Don't Fight It Feel It", surrounded by all my friends who are going nuts and whack – epiphany time! Sod college, sod everything else…I want to do what he (Weatherall) is doing! So I left the club that night…"and he was never the same again". Yip, 1991 and this track will always be really important to me. Read the rest of this entry »
---