Posted:
November 2nd, 2009 |
Author:
Finn
|
Filed under:
Artikel
|
Tags:
Interview
,
Nicolette
,
Rewind
,
Sebastian Dresel
,
sounds-like-me.com
|
No Comments »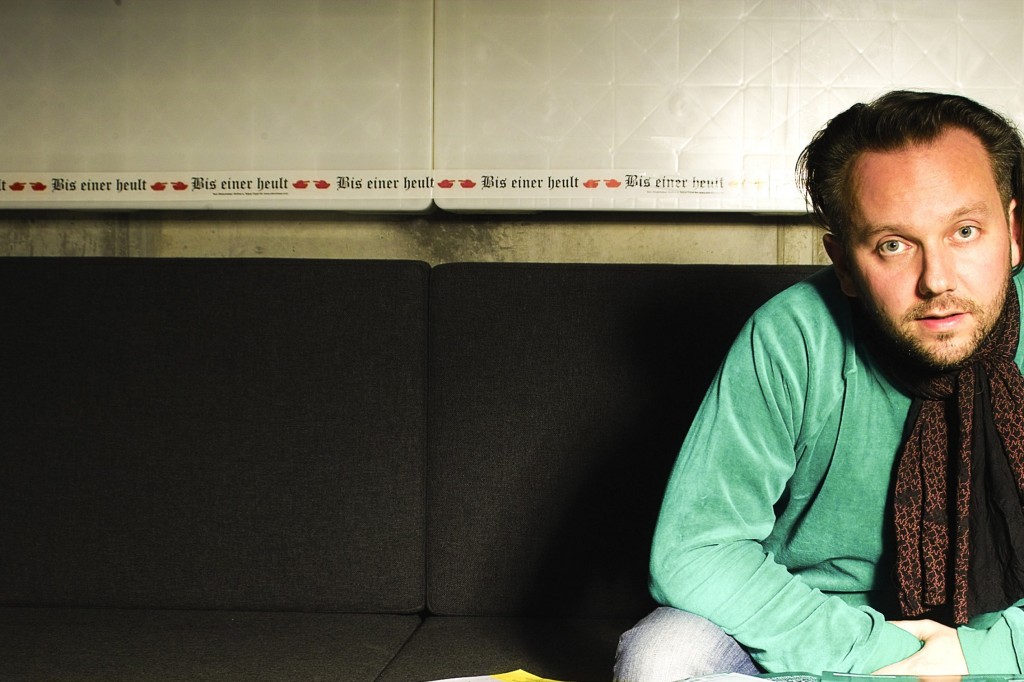 Im Gespräch mit Sebastian Dresel über "Now Is Early" von Nicolette (1992).
Wie bist Du zuerst auf "Now Is Early" gestoßen?
Das war insofern einfach, als dass alles was auf "Shut Up & Dance" kam einfach Pflichtübung war. Aus irgendeinem, mir schlussendlich nicht erklärlichen, aber ausgesprochen glücklichen Umstand, hatten in unserem überschaubaren Mannheim schon Jahre zuvor einige Leute ein sehr feines Gehör für alles entwickelt, was in England so geschah. Interessant für mich ist diesem Zusammenhang aber vor allem auch das "Wo?" . Ich habe damals in der hiesigen WOM-Filiale (für diejenigen die sich nicht erinnern – eine Plattenladenkette namens "World of Music") am so genannten "Vorspieltresen" gearbeitet. WOM war ein Franchise-Laden, was bedeutete, dass man in der Order deutlich autarker war als reine Filialen einer großen Kette, die teilweise zentral bestückt wurden. Und so war ausgerechnet eine WOM-Filiale mitten in Mannheim einer der am besten sortiertesten Plattenläden, die mir je über den Weg gelaufen sind.
Gregor "DJ. GO.D." Dietz (der sich u. a. als "Brainstorm" auf R&S Records bemerkbar gemacht hat und mit seinem damaligen Partner auch die famosen TZ 8 und 9 verantwortet) – der, zu meinem immer noch anhaltenden Grauen, vor 4 ½ Jahren verstorbene großartige Freund, Musiker und DJ – hat die "Disco-Abteilung" (die Zusammenfassung der Stilistika in dieser Abteilung ist ein Thema für sich, auf das ich gleich nochmal komme) geleitet und Holger "Groover" Klein (der – das muss man auch unbedingt sagen, schlicht derjenige war, der "Breakbeats" in Deutschland vor jedem anderen gesportet hat) hat ebenfalls da gearbeitet.
Ich stand also am Vorspieltresen und habe den ganzen Tag für alle möglichen Leute ihre Platten aufgelegt. Angesichts der anderen Abteilungen, die durchweg von ziemlichen Freaks bestückt wurden, war das eine wahnsinnige Vielfalt an Input für einen jungen Typen. So wird mir zum Beispiel Nirvanas "Nevermind" immer in erster Linie als eine Platte in Erinnerung sein, die zunächst einmal monatelang weitestgehend unberührt im Regal vergammelte, obwohl sie der zuständige Typ aber auch wirklich jedem aufzudrängen versucht hat. Ich gebe zu, dass ich an meiner Schule auch nicht mit Wissensvorsprung-Überheblichkeit gespart habe. Wollte ja monatelang keiner wissen.
Aber zurück zur Disco-Abteilung, in der dann die erste Stereo MCs oder Silver Bullet zusammen mit diesen ganzen Soul Sachen Marke Levert, zunächst auch dem ganzen Acid-Jazz-Katalog, C&C Music Factory, Archie Bell and the Drells, Mister Fingers, KLF, Chill Records oder Plus 8 und vor allem den ganzen wunderbaren ersten Warp-Records wie etwa Sweet Exorcists "Clonk" in einer Ecke versammelt standen. Der damalige Manchester-Rave-Zusammenhang war bei Wave einsortiert und ich entsinne mich der Debatten, warum eigentlich. Zumal Holgers Blick auf Breakbeats sicher eher aus einem Zusammenhang entstand, der sich aus The Jam, Orange Juice, Clash und dem Factory Records-Backkatalog samt des ganzen On-U-Universums (den ich eher über die Depeche Mode Mixe und dann vor allem über Gary Clails wunderbaren "Emotional Hooligan" erschlossen habe) und eben den späteren Manchester Bands speiste und quasi nahtlos daraus erwuchs.
Biz zum heutigen Tage scheint es mir nicht fraglich, warum sämtliche Nitzer Ebbs, Weathermen und Front 242s des Planeten damals eben nicht bei "Disco" (und damit eben in der Nähe von Techno) einsortiert waren und insofern House, Techno und Breakbeat der Zeit immer auch "räumlich" in einem Zusammenhang mit Soul und Hip Hop und Jazz standen. Insofern auch nicht verwunderlich, dass so Typen wie Talla später wieder nur Schrott gemacht haben. Irgendwie haben wir hier so eine Hacienda-Sozialisation nachempfunden ohne es genau zu wissen (zumindest ich nicht). Dass Holger dieses "It's grim up north" T-Shirt abgegriffen hat, schmerzt mich bis heute. Und wenn ich jetzt den Titel von Peter Hooks Buch lese "How Not To Run A Club" dann fällt es schwer, das nicht auch auf's Milk zu beziehen. Eine ausgesprochen wertvolle Erkenntnis übrigens, dieses immer wiederkehrende Phänomen des Dilettantismus.
Aber nochmal zur eigentlichen Frage. Auf "Now Is Early" zu stoßen war zunächst keine Entscheidung aufgrund der Platte selbst. Ich kannte Nicolette vorher schon weil ich "O si Nene" als 12" gekauft hatte und das rauf und runter lief. Die B-Seite war ja zusätzlich mit einem "Strings of Life" Sample bestückt, was eben auch den damals ja ganz eindeutigen, ja zwangsläufigen Zusammenhang zwischen Detroit und England verdeutlicht. "Waking Up" war ja auch noch früher und man wollte alleine des Remixes wegen die ganze Platte haben. Mal ganz abgesehen davon, dass "Waking Up" dann im Milk zu den allabendlichen Putzlicht-Platten zählte. In einer Reihe mit "Loaded", "Strings Of Life" (Beatless), M1s "Feel The Drums" oder YBU's "Soul Magic". Ziemlich balearisch ging es da zu. Auch wenn ich  dieses Wort damals sicher nicht verwandt habe.
Warum hast Du Dir dieses Album ausgesucht? Was macht es so wichtig für Dich?
Zum einen die bis zum heutigen Tage immer noch nicht annähernd ausgelotete Frage, wie aus dem "Dance"-Zusammenhang (oder wie man es auch immer nennen will) auch wieder der klassische "Song" erwachsen kann. Also eine Art Rückwärtsbewegung im Disco-Historien-Sinne. "Now Is Early" ist eine Signature-Platte einer Zeit, die ich für mich als irre prägend wahrgenommen habe. Es wäre schlicht verlogen zu behaupten, dass sie mir damals als so besonders aufgefallen sei, wie ich sie heute einschätze. Ich empfand das auf gewisse Weise als normal, mit Ansätzen konfrontiert zu werden, die mir unbekannt waren, mich begeistert, aufgeregt aber auch gefordert haben.
Vielleicht habe ich sie auch genau aus diesem Grund ausgesucht. Weil sie für Stilprägung steht und gleichzeitig immer solitär geblieben ist. Aufregend ist sie auch heute noch. Als Mike Skinner auf "Original Pirate Material" bzw. auf "Sharp Darts" fragte "'ave you ever 'eard a beat like this?" habe ich mich schon denken hören: "yeah, mate! I 'ave. Kind of." Als ich über die Auswahl nachgedacht habe, habe ich mit meinem besten Kumpel King Kummi of D*ruffalo Fame auch über "Road To Nowhere" von den Young Disciples gesprochen. Eine echt schwierige Entscheidung, weil "Road To Nowhere" so unfassbar toll ist. Aber "Now is Early" verbildlicht eben auch vieles, was mir Techno jemals bedeutet hat. Von ihr gehen so viele Pfade aus, dass ich sie kaum zusammenfassen kann.
Die Assoziationsketten reichen von King Tubby bis zu Grant Green auf Blue Note, den ich etwa zur selben Zeit für mich entdeckt habe. Auch die für mich absolut glasklare Logik hinter der Verbindung zu Two-Tone und so etwas erscheint mir weniger über Umweg meiner wunderbaren Vespa, als über eine tiefer liegende Ästhetik zu funktionieren. Ich würde das nicht Mod nennen, aber den Begriff im Sinne seiner modernistischen Bedeutung muss man schon mal fallen lassen. Wenngleich sicher weniger im Sinne besonderer modisch-zeitloser Vorlieben dieser Tage.
Aber es erscheint mir heute schon irgendwie stimmig, dass ich meine musikalische Identität damals irgendwie als Daisy-Age-Raver-Pop-Scooter-Boy gesehen habe. Aber damals war ich schwer zerrissen, weil ich vermutlich lieber irgendetwas von all dem richtig gewesen wäre. Was aber auch irgendwie nicht ging. Man hat eben auf dem Weg ins Milk Toots & The Maytals gehört und auf dem Rückweg Inner City. Read the rest of this entry »
---