Posted:
December 21st, 2009 |
Author:
Finn
|
Filed under:
Artikel
|
Tags:
Ingo Scheel
,
Interview
,
Rewind
,
sounds-like-me.com
,
The Sex Pistols
|
No Comments »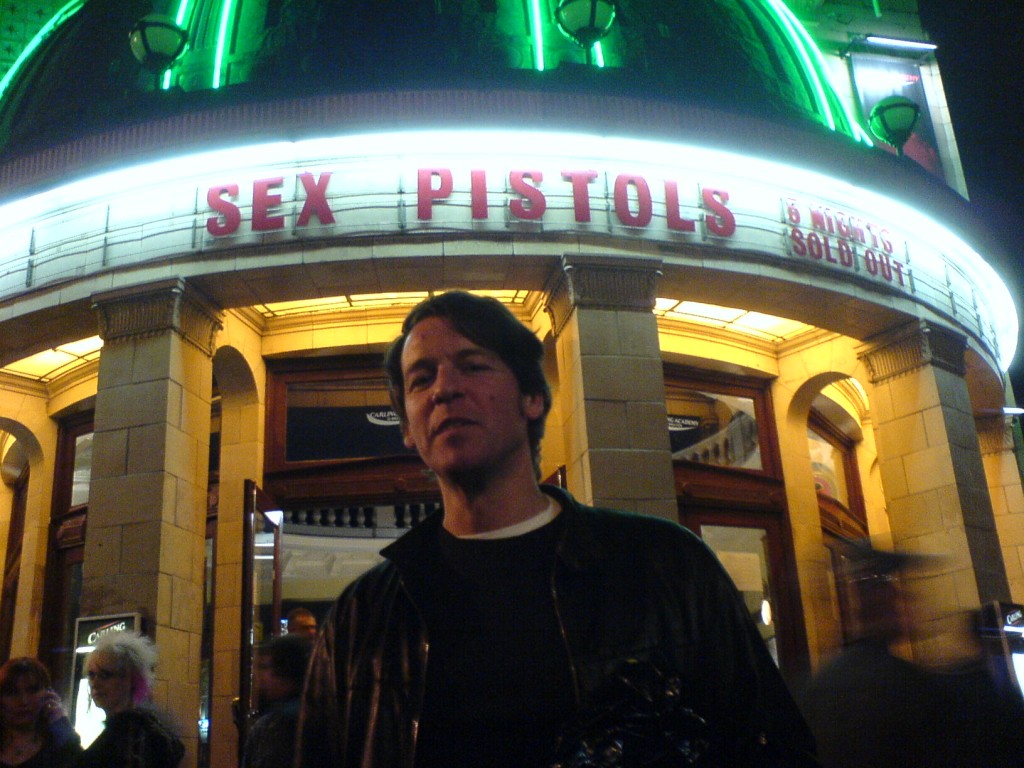 Im Gespräch mit Ingo Scheel über "Never Mind The Bollocks Here's The Sex Pistols" von den Sex Pistols (1977).
Wann und wie war Deine erste Begegnung mit "Never Mind The Bollocks"?
Das war irgendwann im Herbst 1977, ich war 13. Mein bester Kumpel Assi und ich hatten von den Pistols gelesen, von Punk als Phänomen, das fanden wir alles super, aber es gab nirgendwo etwas zu hören. Bis dann Wolf-Dieter Stubel in der "Internationalen Hitparade" auf NDR2 "Holidays in the Sun" spielte. Ich weiß es noch genau, es war im Autoradio, mit meiner Mutter zusammen. Der Song beginnt, das Intro, Rottens Stimme, ich hätte ausrasten können. Die Welt sah sofort anders aus, der Song legte binnen Sekunden einen Schalter in meinem Leben um. Wieder zuhause angekommen rief ich Assi an, er hatte den Song auch gehört und wir konnten nicht fassen, wie gut die Pistols klingen. Zwei Monate nach dieser ersten Begegnung bekomme ich die Platte von Tante Renate zu Weihnachten. Es ist Bescherung, ich packe sie aus. Meine Tante sagt: "Na, nun möchte ich die aber auch mal hören." Wir gehen in mein grün-weißes Jugendzimmer, ich werfe den orangefarbenen "Wifona Hitmaster" an (kein Scheiß), mach die Platte an. Während ich selbst die ganzen Songs zum ersten Mal und beinah implodiere, sitzt Tantchen auf der Bettkante, zieht an ihrer "Kim" (viel zu zart für Männerhände) und sagt: " Das klingt ja alles gleich". Ich sah das natürlich anders. Tantchen ließ mich dann zur Versöhnung an ihrer Zigarette ziehen und wir gingen wieder ins Wohnzimmer zurück. Später hab ich die Platte im Dunkeln noch mehrmals gehört und war zu aufgeregt, um einzuschlafen.
Wie würdest Du das Album beschreiben? Was macht es zu DEM Album für Dich?
Für mich ist es DIE eine Platte, die immer da war. Schlicht und ergreifend. Die Teenager-Jahre sind so prägend, wenn dir in dieser Zeit ein Album auf diese Weise den Kopf abschraubt – das wirst du nie wieder los. Stress in der Schule, nervende Eltern, Pickel, Mädels, der ganze Irrsinn, da waren die Sex Pistols ein erstklassiger Fixpunkt, mein klanggewordener, ausgestreckter Mittelfinger. Der britische Fußballer Stuart Pearce hat einmal gesagt, er hätte "Never Mind The Bollocks" so oft gehört, es ist mittlerweile in seinen Genen. Das ist natürlich herrlicher Quatsch, aber ich für meinen Teil empfinde genauso. Read the rest of this entry »
---