Posted:
March 29th, 2010 |
Author:
Finn
|
Filed under:
Artikel
|
Tags:
Bobby Konders
,
Gerd Janson
,
Interview
,
Rewind
,
sounds-like-me.com
|
No Comments »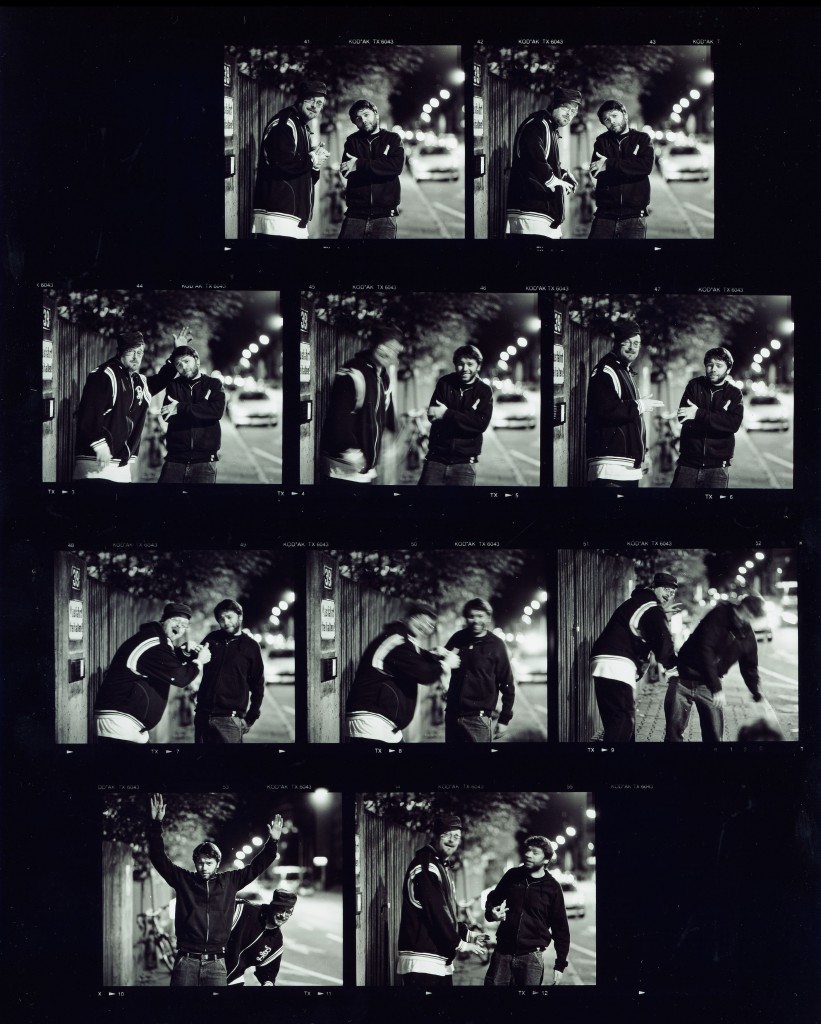 Im Gespräch mit Gerd Janson über "Bobby Konders & Massive Sounds" von Bobby Konders & Massive Sounds (1992).
Wie und wann bist Du auf "Bobby Konders & Massive Sounds" gestoßen?
Der Name Bobby Konders fiel mir zum ersten Mal 1994/95 im Rahmen einer Nu Groove Records-Retrospektive des Size!-Magazins auf. Das war eines jener selig machenden Fanzines, die damals die Funktion heutiger Blogs übernahmen und sich bevorzugt mit House und Techno aus dem Detroit-Chicago-New-York-Triangel beschäftigten bzw. den europäischen Brüdern im Geiste. Die dort beschriebene Konders-Disziplin aus Deep House, seitwärts getragenen Baseballmützen, Krankenkassenbrillen, Langhaarmatte und Dub-Reggae-Einflüssen klang sehr plausibel und sein greatest hit "The Poem", das vom Dub-Poeten Mutabaruka eingeleitet wird, stieß dann sozusagen das Tor zum Fantum himmelweit auf. "Bobby Konders & Massive Sounds" hat mir ein guter Freund daraufhin geliehen und es ward um mich geschehen.
Wie hast Du das Album beim erstmaligen Hören empfunden? Wie würdest Du es beschreiben und was macht es so wichtig für Dich?
Ein wenig angeekelt und fasziniert gleichzeitig. Das Debütalbum von Bobby Konders ist ein Paradebeispiel für die gescheiterte Ehe von underground dance music und dem Versuch, diese für den Massenmarkt tauglich zu machen. Das Resultat ist meist weder Fisch noch Fleisch. Vor allem in der causa Konders. Der Boy aus New Jersey mit Wohnsitz Brooklyn expandierte seinen Vibe aus House, Reggae, Hip Hop und Soul um einige Unzen Pop. Einer US-amerikanischen Version der Erfolgsformel aus Jazzie B und Soul II Soul gleich, betörte und bezirzte Konders diesen Markt – wohl relativ erfolglos für die damaligen Verhältnisse. Was dieses Scheitern so charmant macht, ist allerdings der unbedingte Wille, die dominanten Machismos der Dancehall und das Straßenimage von Hip Hop mit den doch eher ambivalenten Geschlechterrollen und philanthropischen Utopien der Housemusik zu vereinen, unter einem Regenschirm von Soul und R&B. Solchen Querdenkern und Querulanten kann man nicht genug Respekt bezollen. Read the rest of this entry »
---
Posted:
April 6th, 2007 |
Author:
Finn
|
Filed under:
Artikel
|
Tags:
de:bug
,
Gerd Janson
|
No Comments »
Seit 2001 gibt es das Label Running Back, das einst von dem DJ und Journalisten Gerd Janson und Thorsten Scheu alias Glance gegründet wurde, um Freunden und dem eigenen Deep House-Aktivismus eine Plattform zu bieten. Die Veröffentlichungen von Scheu selbst als Second Life und Soul Supply sowie dem mysteriösen Mute waren sporadisch, aber fein und von der tiefen Überzeugung geprägt, mit der von Frankfurt aus südwärts der Sound immer weiter betrieben wurde, als anderswo im Lande die Klangsparsamkeit ausgerufen wurde. Deep Houser sind eine beharrliche Spezies, und abermals werden in dieser Tradition wieder Standards mit Breitenwirkung gesetzt, die Berlin-Karlsruhe-Achse Innervisions oder auch Stir 15 strahlen aus, und in Clubs wie Inner City und Liquid wird die Erfahrung umgesetzt und neue Gefolgschaft konvertiert. An der Grundprämisse von Running Back hat diese Wiederkehr von Deepness nichts geändert, doch Jansons zunehmendes Profil hinter den Decks und als agiler Kulturaktivist bedeutete auch eine stetige Erweiterung des Freundeskreises, wodurch der Backkatalog unweigerlich Fahrt aufnahm. Die letzte Mute EP sickerte bereits in Checker-Kreise im Ausland, mit dem zurückgelehnten Briten Mark E wurde mit gutem Wissen und Gewissen die Tür zur gegenwärtigen Discoaufarbeitung durchschritten und mit der aktuellen Wiederveröffentlichung von vergriffenen Losoul-Tracks wird die Relevanz ursprünglicher Ideen im zeitlichen Vergleichstest demonstriert. Und es geht weiter voran: Mark E und Soul Supply kehren zurück, Todd Osborn und Toby Tobias kommen als Beteiligte dazu und es gilt als nicht ausgeschlossen, dass ein paar extraordinäre Spezialplatten der labeleigenen Sammlung nach längerer Hege als liebevolle Neubearbeitungen das Mittelmaß in den Edit-Fächern aufmischen könnten. Watch this space.
De:Bug o4/07
---