Posted:
August 9th, 2010 |
Author:
Finn
|
Filed under:
Features
|
Tags:
Ian Curtis
,
Interview
,
Joy Division
,
Ken Vulsion
,
Rewind
,
sounds-like-me.com
|
1 Comment »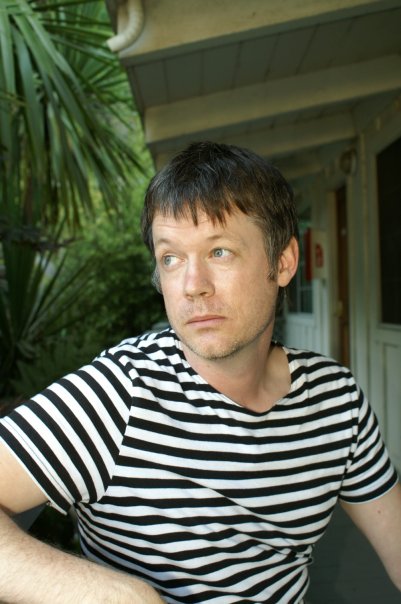 In discussion with Ken Vulsion on "Love Will Tear Us Apart" by Joy Division (1980).
How did you first come across "Love Will Tear Us Apart"? Was it love at first sight the time it was originally released, or did you get to know it later on?
I grew up in a sleepy part of New York State. There was little access to new, alternative music there in the 80's. Every Tuesday there was a New Wave radio show on the Ithaca College radio station, the DJ was Mike Weidner. He played "Love Will Tear Us Apart" on that show, which I recorded to cassette. This would have been in 1981 or 82. It was love at first listen.
The song is generally considered to be one of the best songs ever written. Did you have the notion that this song is exceptional, or was it just another song you liked very much?

It is exceptional. The newness and truth has never faded.
It seems that a lot of people attach very personal feelings to "Love Will Tear Us Apart"? Is it the same with you? Does the song offer more ties with the listener than others?

I was 18 and in a doomed love affair at the time, so it is full of associations – though I can now enjoy it as a perfect pop object, without feeling heart torn.
Would you say that "Love Will Tear Us Apart" is a perfect pop song in terms of composition? Is the music just catchy or does it also have other, maybe even more significant qualitities?
I think at its core there is a perfect piece of pop craft. But it is the execution that it is so unique. Just compare the original to Paul Young's version (which I also like for my own perverse reasons!).
What place does "Love Will Tear Us Apart" hold in the works of Joy Division? Was it the exception to the rule or a logical consequence?

Certainly a standout, though I certainly have new favourites. When Anton Corbijn's film "Control" came out I got really into Joy Division again, such a great little film. The same when "24 Hour Party People" came out, there were some songs that really stood out (another great pop music movie!!).
Would you like more music to sound this complex, meaning that a song can be sad, beautiful and wonderful at the same time?

Yes!
Of course it is absolutely not possible to separate the song from Ian Curtis. A lot of the fascination of "Love Will Tear Us Apart" lies within his personality, and the way he sings about these very intimate problems affecting his life. Yet it seems other of his lyrics are hinting more at the trouble he was really going through than these. How much of the song's power actually stems from listeners relating to this analysis of a dysfunctional relationship, and how much stems from the legend surrounding his early death? Or is it both?
I wasn't aware of Joy Division until after Ian's death. Some of the lyrics (i.e. 'were my failings exposed') got into my head because of my own confusion in dealing with a first, difficult love and suicidal feelings. Ian's own suicide amplifies every word.
Do you think that the song's lyrics contain more hints at other of his problems than the description of his disintegrating marriage? Or are such interpretations just the consequence of his early death?
Some of his biography was unknown to me then (his struggle with epilepsy). Back then I was into the song, but not a "fan"….I didn't own a Joy Division t-shirt.
A lot of Joy Divison's legacy seems to based on him being handsome and charismatic, his distinctive voice and of course his actual suicide. Thus he became his generation's prime example of the tortured artist. Is this unfairly neglecting his true abilities as an artist? And is his status just based on the fact that he died, or is there more to it? Was he as gifted as he was tragic?
I think the work holds up regardless, same with Kurt Cobain or River Phoenix. The 'twice as bright' flame club.
I always felt that "Love Will Tear Us Apart" is already part New Order part Joy Division, even if at the time it was written there was of course only Joy Division. Do you think the band could have made a change of direction musically towards a less darker sound if Ian Curtis would have lived on, or was the sound of Joy Divison always dependent on its singer's condition?

The sound lived on and evolved. "Your Silent Face" by New Order is an interesting bookend to "Love Will Tear Us Apart" Softer vocal, sleeker production, but still that raw sad emotion.
I always found it very impressive how the rest of the band decided to carry on without him. At first they still clinged to the previous band but then they really re-invented themselves. Did you feel they had the potential to achieve this around the time it became clear that they would not stop?

New Order existed by the time I first heard "Love Will Tear Us Apart" so that timeline doesn't exist for me. I may have bought the Arthur Baker version of "Confusion" before the 7″ of "Love Will Tear Us Apart".
Tony Wilson, the head of Factory Records, was at first very concerned that Bernard Sumner would take up the part of the singer. But then he managed to develop a performer persona of his own, and the band did so, too. Do you think this was out of defiance, or was it out of trust in their own abilities? Or did it just evolve?

At the time I was singing lead vocals in a few bands (Identity Confusion and XOX were two of them LOL). I had an almost distorted confidence. I was shy, but defiant enough to get up in front of a small town crowd in leather jeans. Defiance can be a great motivator.
Since then, both Joy Division and New Order built up a legendary status in music history. Do you think their legacy can be told apart, or are they one and the same in the pop music's canon by now, just with different phases?
Since everything happened so fast, the bands will always be connected.
Apparently Joy Division underwent a severe crisis due to Curtis' condition. Do you think it could have happened that the others would have continued without him anyway?

Hard to say. Crisis is part of the band dynamic usually.
Are their elements of  New Order that still owe to Joy Division, apart from being the succeeding band?

Maybe they were able to use the death as an opportunity to shift into a new direction.
On the other hand, would Ian Curtis have done a seminal track like "Blue Monday"?

I wonder if he was much into dance music. He was a very interesting dancer.
If "Love Will Tear Us Apart" is the timeless classic in Joy Division's back catalogue, what would be New Order's?

For sure "Blue Monday". It's perfection. And the record is a perfect object, just like "Love Will Tear Us Apart". The sleeve designs by Peter Saville are sublime. He was as much a rock star to me back then as Ian.
Do you think it would be possible that another band would write a song similar to "Love Will Tear Us Apart", and it would become as lasting, or will this history not repeat itself?
I live for new music that affects me as much. So, yes!
---