Posted:
June 21st, 2010 |
Author:
Finn
|
Filed under:
Features
|
Tags:
Das Ding
,
Interview
,
Rewind
,
sounds-like-me.com
,
Traxx
|
1 Comment »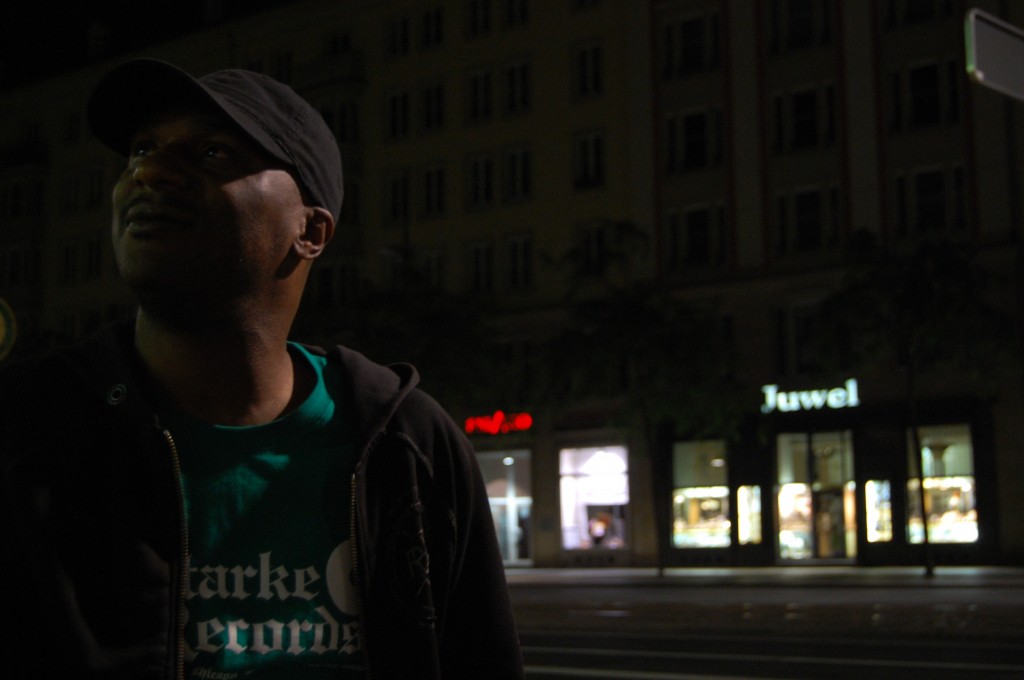 In discussion with Traxx on "H.S.T.A." by Das Ding (2009).
How did you discover Das Ding? Were you aware of Danny Bosten's productions before the reissue on Minimal Wave?
Tadd Mullinix (JTC) posted a video from Youtube of this group, that I thought I heard of before, but really couldn't put my finger on.
I wasn't aware of Danny Bostens' productions until they came out on Minimal Wave. He released all his stuff on Tape-Cassette, and I've always been a vinyl head, so it must have slipped through.
What made you decide for this album? What makes it so important for you?
The music is just plain sick! And I really like the overall concept that doesn't get stale. There is a poem on the back of the cover:
"The reassurance ritual has us actors in its play
a million times we repeated the words that we will say
and if its not tomorrow then it will be today
that words this way spoken will lead another way"
This pretty much covers everything that I like about this album. In our society things have a habit to repeat themselves over and over again. Be it fashion, art or music. Danny Bosten tried to break the borders of the genre that he was classified in back in that time. This is something that I can relate to, too.
How would you describe the sound of "H.S.T.A."? Is it a coherent album, despite being a compilation?
If you wouldn't know that Veronica compiled tracks from different tapes done by Bosten in the early 80's, "H.T.S.A." can be seen pretty much as an album. The tracks line up to each other and make sense. Soundwise they just go a little further than all the other material that came out in that period. While the A-Side has more dancefloor-appeal, the B-Side is more for listening at home and wander off into the deeper realms. I mean the first track on the B-side is called "A dark place"…so what does that tell you?
How would you place the music of Das Ding in the musical context of the time of its origin? Is it an album typical for the electronic side of the post punk era, or does it add an original take on this music?
When I look at that time period, in the early 80s, and how many defining albums came out in that specific timeframe (Liaisons Dangereuses, Chris & Cosey, Depeche Mode released their first singles), I regard "H.T.S.A." as somewhat of an underdog album. Now Veronica has put out this album to reflect another deep end of the pool, but we still know that there is much to discover from back in those days because the scene was really busy, and everything was practically DIY mentality. So there must be much more gems laying on the ground, and all we need to do is pick them up.
What other artists do you find comparably to Das Ding, both stylistically and creatively?
I already mentioned Liaisons Dangereuses, Chris & Cosey and the early Depeche Mode, but there are quite a bunch of artists that i discovered for myself who have been very active in that period of time. I'm thinking of Absolute Body Control, The Artery, Section 25, Cabaret Voltaire, Der Plan, Brian Eno, Palais Schaumburg, Psychic TV, Kissing the Pink, Deutsch-Amerikanische Freundschaft….so many bands and so many projects that might not all fall in that exact bracket of music, but they transpond the same feelings, frequencies and overall ambience in the sound that was adherent to the productions of that time.
There was a quite active scene involved with the darker side of electronic music in Europe, but in the US, too. Is there a notable difference between European and American artists that stand for this sound, and the local scenes surrounding it?
In my eyes, the main difference between American and European outlets is that the bands in Europe were much more experimental when dealing with ways to get their music heard. Everyone just started their own little label, distributed tapes and records themselves. In the US, you basically had three major labels that would pick up those kind of productions. You had WaxTrax, where Front242, Nitzer Ebb, The Invincible Limits, Ministry and all these people would come out, alongside ZYX Music and PIAS licensing those productions for a broader market. The scene in the US as far as I know, was centered around cities like New York, LA and Chicago. In Europe you had the Ruhrpott with cities like Cologne, Düsseldorf or Bochum, where Kraftwerk, Der Plan, Palais Schaumburg, DAF would meet up at Ratinger Hof. And then there was Berlin, SO36, and projects like Malaria, Liaisons Dangereuses and so forth.
You are known for including all kinds of advanced electronic music from the past in your sets. Is this music a blueprint for what interests you musically? Does the music of Das Ding contain elements that you actively look for? What role does this music play in your Jakbeat concept?
If I understand your question right, you are asking if this music influences me when I am producing my own music? And I can only answer with: YES!
It definitely inspires me, and when it comes to Jakbeat… To me this IS Jakbeat. Period. I always stated the following: "Jakbeat is a state of mind and different level of musical consciousness. This sound was influenced from the early inception of dance music." And that's exactly what Das Ding is for me, it is an early inception of another side of dance music.
There are quite a few producers and DJs from the house and techno scenes of Chicago, Detroit or New York that cite music similar to Das Ding as important influence on their work. Apparently it still surprises a lot of their listeners that they were educated about the variety of disco styles as well as Industrial, Post Punk and other related music. Is this a stereotype that annoys you, that artists from a certain background are not supposed to be fans of a certain sound?
It's not really a stereotype to me, nor is it annoying me. I just don't really care much about what their influences have been. The point is this if you name certain groups and musical pioneers as influences, why are you not playing them in your sets anymore, if at all? That's what I wanna ask.
You often stress that you place yourself in the tradition of Ron Hardy and Larry Levan, both DJs who were known to take risks and who had a very eclectic taste in music. Did you actively witness them play music in the vein of Das Ding?
No, not really. But I place myself in the tradition of the "spirits" of those two main influences on how I like to play records. That doesn't mean that I only play exactly like them, but to me what matters is: "If these people would still be alive today, would THEY play it? Or if they would have known about that music back then, would they have played it? Ron Hardy always played stuff that was new, exciting, and he would deliver these sensations in a uncompromising way. That's what I do, at least thats what I am trying to attempt. Ron Hardy played Liaisons Dangereueses and stuff like that, sure… but to me what matters the most is that he branched out of the common sense of the dancefloor and made people lose their minds on the music. When I name him as one of my main influences, then I am talking about that certain attitude when it comes to playing records and taking risks to give people something they haven't heard before.
Apart from the clubs Ron Hardy played at, where could you hear this music in Chicago? Do I understand correctly that for example Club Medusa, the club that inspired Jamal Moss to do a series of according edits of post punk, EBM and industrial music, was such a club?
Yes, the Medusa was a club that would cater that particular kind of music. I went there a couple of times and had the honor to play there several times as well and never heard Das Ding tracks being played out, but I definitely heard some music in that vein, music I have never heard before in my life. What Jamal is doing is taking his own ideas of what has happened back in those days, and give his very own reflection to the listener. As of now, Jamal has done very special products for the Medusa Edits.
A lot of Das Ding's music was originally released in cassette format. I remember that there was a very vital cassette label scene in Europe during the 80's. Each month there were hundreds of releases on cassette, and the important music magazines tried to filter the output in specialized review sections. Was it similar in the US? Did you buy music on tape that wouldn't have been released in other formats?
I bought music on tape, don't get me wrong here. But in the early 80s, my perception of that music was literally not there. I didn't read those type of magazines that you mentioned. I was more occupied riding my bike, playing videogames and watching people breakdance on the street. I was just a kid back then, and I didn't find out about this type of music until later.
There must be thousands of obscure cassette label productions still waiting to be uncovered. There were prejudices back then that only music worth being released on vinyl found its way to the pressing plant, but the quality of "H.S.T.A." tells a different story. Is this scene a treasure chest in the making? How could anyone get at least an appropriate survey of what happened there?
I really think it is a treasure chest. I don't really think there could be an appropriate survey done by just one person alone. It always takes one from the outside to enlighten me with that kind of music. I do my research and I learn about things everyday, and I am really grateful to people that put the immeasurable amount of time and dedication into something like this. It's just too much for one person to handle. Everyone focuses on one particular style of music that they feel needs to be expressed, and I get as much music from others, as I give to others. So it's definitely a give-and-take kind of thing. People like Veronica, who is running the Minimal Wave label, or the guys from Vinyl on Demand who release old and rare stuff on vinyl again, are truly preserving something where no random person could get their hands on, just like this. They really take it to another level of awareness by the public, and that is something that cannot be valued highly enough.
The Minimal Wave label responsible for the reissue of the "H.S.T.A." material is very active in digging out gems from that era. I find it interesting that Minimal Wave cooperated with Stones Throw for a recent compilation of DIY electronic music of the 80's, as Stones Throw isn't normally associated with electronic music. Do you think this a collaboration based on the intention to dig deeper for different ressources, or is this also a sign that label profiles get blurry the deeper you dig? For example, will there be hip hop based on obscure experimental electronic sounds like it is based on funk, soul and disco breaks?
This is a very interesting question. I can only speak for myself here, because I was not involved in the process of the "Minimal Wave Tapes" on Stones Throw. But it was quite a shock to me to see that stuff come out on Stones Throw which is basically a HipHop-label with Peanutbutter Wolf, Dam-Funk and others like James Pants & Mayer Hawthorne, but I have to say that the stuff Stones Throw has released yet to date, is all the more obscure hiphop. So it definitely falls into the bracket of obscureness that the Minimal Wave Tapes are bringing to the table. I would like to hear more collaborations between the two of them because I see that that the borders between hiphop and electronics are slowly but surely fading away with people releasing music like Nosaj Thing, Flying Lotus, Paul White or Mike Slott for example. They are really getting exposed just right about now, but let's not forget people like Tadd Mullinix who released electronic hiphop as Dabrye on Ghostly already in 2001. So you see, Hip Hop and Electronics go way back, but it is just a matter of bringing it to the attention of the public.
There is a lot of current electronic music referencing experimental music from the past. Why do you think this music from the past is still so present? Should there be more modern music adapting the creative stand of the original artists, but with the aim of experimenting with modern equipment to achieve a sound that is another kind of experimental, another kind of result? Do you see the potential in the current generation of producers to come up with something equally lasting? How does the music from the past affect your own work? Are your productions an effort to utilize the best of all eras, or does it even matter when something originated as long as it is good music?
In my opinion this music wasn't always as present as it might be today. A few years back no one gave two cents about early krautrock, minimal wave or obscure electronics. At least not in the scene that we are both involved in. People are coming back to that point where things are repeating themselves (if I am allowed to reference the allegory of the poem mentioned above) and they look back at what has been done. There shouldn't be more adaption of a creative stand by an original artist, all I can say is that you need to be the artist yourself. Take your influences, take the past of the music you like and form these origins into something new that will determine YOUR future. This is a pivotal point in my artistry. I take things from the past, but I transpond them into the future so they can last, be reborn in some ways. This might be a bit esoteric, but this is really how I feel about it. People should be free to explore what they want to explore musically, because then they are able to produce something that is equally lasting. The current generation of producers is very open-minded, but they have to be mindful of the past and realize that there are retain mannerisms, certain rules that you have to follow but only to break them when the time is right. How can a new future be created musically when we are repeating the same patterns over and over again? A lot of these young kids use a computer to create sounds, that's not my way, but if it is theirs then why should I be judgmental? A computer can only emulate a sound that a machine can produce… and I like to have a machine in front of me when I am producing my musical vision. It is all about what suits you best in your efforts. I myself like to know about what drum machines were used, or what kind of synth was used to produce a certain track that I like…the past affects me in my own work.
---