Posted:
May 31st, 2010 |
Author:
Finn
|
Filed under:
Features
|
Tags:
Interview
,
Justin Strauss
,
Kraftwerk
,
Rewind
,
sounds-like-me.com
|
2 Comments »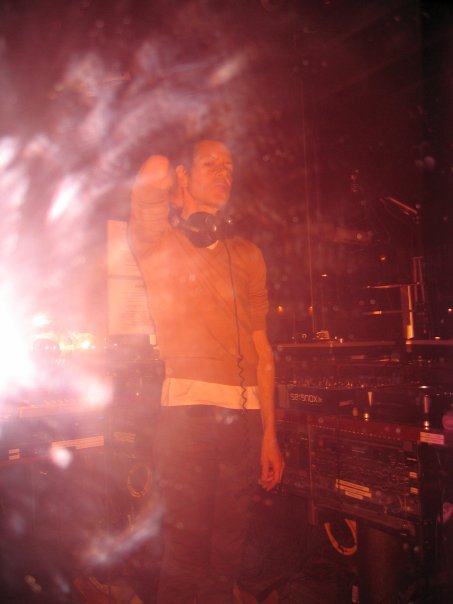 In discussion with Justin Strauss on "Computer World" by Kraftwerk (1981).
Can you still remember the first time you ever heard Kraftwerk?
Yes. I think the first time I heard them I was 17 years old, in England, recording an album for Island Records with the band I was in at the time, Milk n Cookies. I heard the song "Autobahn" on the radio there and remember thinking how different and cool it sounded than anything else out there. I bought a copy of the 7″ while I was there.
What made you decide for "Computer World" out of the many legendary albums? Do you agree with many critics and fans that they were at there creative peak with this?
Although I love all their albums, "Computer World" for me was just the best. Perfect in every way. I totally agree that this was their "masterpiece".
This maybe one of the most influential 30 minutes ever recorded. What makes "Computer World" so special? And why is it still so present? Is this a perfect album?
What makes this album so special to me is the beautiful melancholy tone of the melodies set against the most awesome production and drum programming. And the songs are just beautiful. I remember getting the first single from Warner Bros. Records. A neon green 7″ of "Pocket Calculator" in a clear plastic sleeve with some Japanese imagery on it. I was wondering how would they would top the "Man Machine" album. Soon after I got a promo of the full LP and couldn't stop playing it. I played it non stop. It blew me away. It is timeless and still sounds amazing and is relevant both production and song wise.
How much art is "Computer World", and how much pop?
To me, a perfect blend of the two. Great pop music is art. A lot of the songs had really nice pop melodies and the whole package was awesome. Their record covers and imagery were equally beautiful.
As Kraftwerk are notorious for lengthy preparation and recording processes, do you think they calculated the success of the album?
I know they were meticulous about their records and how their music was released. I am sure they knew they had produced something very special. I don't know if they could have calculated its success and influence, which was huge.
If you look at their career, how would you place "Computer World" in their back catalogue? Was it a logical progression after its preceding and subsequent albums?
Each album preceding computer world was a progression. "Autobahn", "Radio Activity", "Trans Europe Express" and "Man Machine" were all amazing influential recordings. "Man Machine" was stunning. Songs like "Neon Lights", and "The Model", incredible as they are, were precursors of what was to follow on the "Computer World" LP.
As with nearly all of their albums, "Computer World" is thoroughly conceptual. They addressed the progress in computer technology and its cultural and social impact, and predicted developments that eventually came to be, like virtual sex, security and privacy issues, the dependence on the machine. Were they prophetic or
just documenting events that were already in progress?
Both, I would say. The use of home computers was still a few years away. This album came out in 1981. The first Apple Macintosh home computers weren't available to till 1984. They were musical and cultural visionaries. Again, whether they knew the impact the computer would have in a few years, how it changed the world as we knew, I don't know for sure. But they must have seen it coming.

Did you feel at the time that this was a glimpse into the future, or were you already aware of or familiar with the technical devices and the according implications Kraftwerk deal with on "Computer World"?
I feel it was their glimpse or take on what was to come. How man and machine will co-exist and how that might work. Using the technology available at the time with the synths around at that time as well, they managed to produce an extraordinary sounding piece of work. Instruments like the Juno's and other keyboards and drum machines and even Midi to sequence were not an option at this point. They were writing the book on this so to speak. Inventing a sound.
How much of "Computer World" is critique, and how much is celebration of its subject?
I think mostly a celebration of the possibilities of living with computers. But with that always comes the problems. Obviously computers have changed everything about the way we live today. For the better and in some cases for the worse. To me the reliance on just computers has made so many things I love, music, movies, books, magazines, all too disposable. Although I use the computer to do all those things, I still love buying and playing records, magazines, books. Nothing on a screen can replace that for me. I can still go back to my record collection, pick up a beautiful magazine or book. I learned so much about music from reading liner notes on records, the impact many record covers had on me. All that is a lost art these days, which is sad.
Were they also establishing sounds that were to unfold their full impact in the years to come?
The sounds created on "Computer World" and their other records are still mind blowing and have and continue to influence many records and artists today, including myself. It's one of those records that no matter how many times you've heard it you can still hear something fresh in it even today.
A lot of worldwide electronic artists claim Kraftwerk to be the forefathers of what they do. How did you experience Kraftwerk's influence in New York? Did you hear their music being played in the clubs back then? In the Paradise Garage for example? Did you feel this could lead up to a new kind of club music?
Well, "Trans Europe Express" was played in the clubs and even on New York black music radio stations like the influential at the time WBLS. The hip hop culture embraced that record and b-boys would break dance to it. I was playing it at the Mudd Club in New York, my first DJ gig, and became friends with Afrika  Bambaataa who loved Kraftwerk. Obviously the emerging electro sound on many early hip hop records at the time was totally influenced by Kraftwerk. When  Bambaataa used the groove from from "Trans Europe Express" for "Planet Rock" it all came together. One of those records that changes everything. Larry Levan would play "Numbers" at the Paradise Garage mixing two copies. The crowd would go nuts. Sounded so amazing there.
The first apparent signs of Kraftwerk's work seeping through club culture probably were electronic acts from the post punk scene, and electro. In what way did their blueprint evolve at that time? Was it something that happened almost instantly and then turned into something continuous?
You had a band like Suicide who were doing their thing in New York, primitive drum machines and Alan Vega's vocals which was incredible and ground breaking and then later the Factory Records influence with Joy Division, early Human League, OMD, early Soft Cell, and others, all highly influenced by Kraftwerk. The influence was something that you could not ignore. As far as electronic music goes, they were the Beatles. The group that everyone looked to lead the way. The ground breakers.
Kraftwerk were no strangers to club culture themselves. What clues do you think they took from music they heard in clubs?
Kraftwerk were always very secretive and insular about their recording process it seems but it seems one could not help but be influenced by the sounds of the great Giorgio Moroder, whose records in the late seventies, Donna Summer's "I Feel Love", his own "From Here To Eternity", his work with the band Sparks and others must have had some impact. When I first got a copy of the "Computer World" LP and the song "Numbers" came on I flipped. I could not wait to play that out when I was DJing. The track became HUGE in New York. It was an anthem. Everywhere from where I was spinning, the Ritz, Tunnel, Limelight, Area, to the Paradise Garage, to the all the hip hop club there was no escaping that track. I'll still play it today and it still sounds incredible. Totally unique. Later on when I was DJing at the club Area in NYC, Rolf and Karl would come down and hang out in the DJ booth from time to time. They were friends with Francois K., who was a good friend of mine and worked with them on the "Tour de France" track, and they were hanging out in New York and starting to work on ideas for the "Electric Café" LP. It was an honor to meet them.
You released your first single "Think (About It) one year later, and then embarked on a long and successful career as producer and remixer. Did "Computer World" leave any traces in your approach to music?
I was DJing at the Mudd Club and was always throwing in James Brown and his productions in my DJ sets. The James Brown produced "Think (About It)" by Lyn Collins was one of my all time favorite records. I had the idea to redo it in a modern way. I approached producer Earle Manky, who was the guitar player in the original Sparks, to help me produce it. I went out to his studio in California. We laid down the tracks. This was in 1980, no Midi, just playing stuff live. He played a live drum track which he then cut up into a tape loop and played the synths over that and I laid down the vocals. Stiff records put it out in 1981 and it became a big club hit here in New York. Larry Levan would play it at the Garage from time to time and that blew me away. As far as "Computer World" influencing my approach to music and making records, yes. I always love the beautiful melodies and melancholy chords over the driving drums and rhythm track, which was pushed way up front in the mix. Records like 808 state's "Pacific State", which I was lucky enough to mix, is a good example of that I think.

How has the futurism of Kraftwerk aged? Are their views of modern society and how it should sound still valid?
To me this record is like a great classic movie, or book, or beautiful magazine. Almost 30 years on and it still resonates.
Why do you think Kraftwerk still gets sampled so much? Is it a referential statement, or has electronic music simply not come up with anything as important since?
Because of the way it was recorded with analogue synths it has such a unique sound. I have sampled them myself on some remixes like the "That Smiling Face" remix I did for the German band Camouflage. Music is always changing and evolving, but also many records today are referencing and are influenced by those Kraftwerk records, early house records, and what Kraftwerk produced back then still sounds relevant today.
I was very impressed with the live shows they later turned into the "Minimum-Maximum" album. For me they confirmed that they were still not only great artists, but also great performers. Did you see them live at any point in their career? Did they set standards in a live context, too?
I was DJing at the New York club and live music venue The Ritz in 1981 when Kraftwerk played two shows. I invited my friend Afrika Bambaataa, and I believe Francois K. to the show. This was just as "Computer World" was being released. Everyone was so excited to see this show. Needless to say it had a huge impact on Bambaataa, and everyone else in that room. The show was incredible. They had the "dummies" on stage at first. The sound was amazing. The visuals were fantastic. Again ground breaking. We were all speechless.
Do you think that Kraftwerk have now reached such a generally accepted legend status that more recent generations might not question this anymore, eventually not hearing the music any longer to check what makes up that status? What can you still learn by listening to Kraftwerk?
Well, I certainly hope not. Because there is a lot to learn. But for sure I see a disturbing trend with a lot of the younger generation. When I was a kid and heard a band I loved I wanted to know everything. Who influenced them, what records they listened to. The history. I don't see that happening much anymore. Music consumed me when I was growing up. I have two daughters who I am happy to say have great musical taste in both old and new music. I would hope that kids today hear this album and realize its stature in music history and that it still sounds contemporary.
Even if Ralf Hütter is now the only original member, the band remains active. They still tour, and they keep on working. Are they just maintaining their myth, or do you think they can still live up to their reputation with new material? Is it even necessary for them to top themselves? How will or how should they develop?
For me, although I love "Electric Café" and some its really amazing songs like "Music Non Stop" and "Telephone Call", I think "Computer World" was the ultimate. If they never made another record again they have done their job. Very well. As artists they will always be creating. To top that record, I really don't know, but if they could I would love to hear it and be inspired once more by the amazing Kraftwerk.
---