Posted:
May 17th, 2010 |
Author:
Finn
|
Filed under:
Artikel
|
Tags:
Interview
,
Rewind
,
Richard Hell & The Voidods
,
Riley Reinhold
,
sounds-like-me.com
|
No Comments »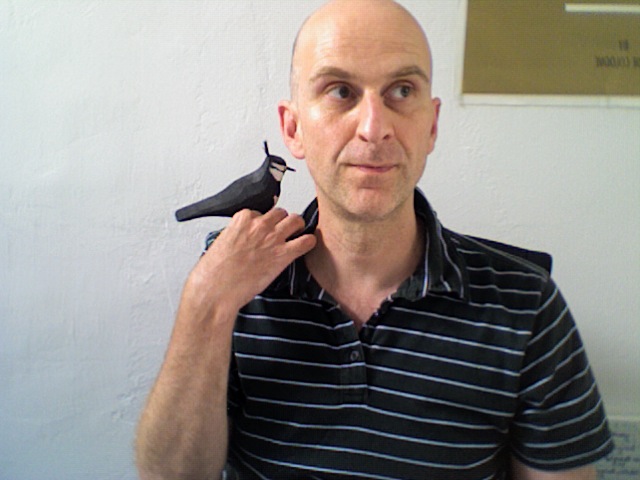 Im Gespräch mit Riley Reinhold über "Blank Generation" von Richard Hell & The Voidods (1977).
"Blank Generation" ist ein absoluter Punk-Klassiker. Kannst Du Dich noch daran erinnern, wann Du den Song zum ersten Mal gehört hast? Hattest Du eine Punk-Sozialisation in Deiner frühen Jugend?

Ich hab das Album gehört bei Freunden von mir. Gehört ist falsch, gesehen…weil vorspielen wollten sie mir das nicht. Die waren alle älter und hörten richtigen Rock, Südstaaten-Rock, Lynyrd Skynyrd, Deep Purple, Queen, und die Platte hatten sie im Cut-out-Shop vom Saturn ergattert (damals ein Paradies für Andersdenkende!), wo ich auch einige seltene Platten gekauft habe, die keiner wollte. Nun, sie konnten nichts damit anfangen, ich glaube es ging gar so weit, dass sie die Platte anwiderte. Wäre ich nicht dort gewesen, wäre die Platte in den Mülleimer gewandert und ich hätte nie was von ihm gehört. Ja nicht ganz, ich bin akribisch was die Historie von Musik angeht und habe noch nie der Musikindustrie Glauben geschenkt, das die wirklich erkennen können was cool ist. Das ist sicher auch der Antrieb gewesen, selbst mal ein Label wie Traum zu gründen.
Warum hast Du Dir diesen einen Song ausgesucht, und nicht das ganze dazugehörige Album? Wird in "Blank Generation" schon alles gesagt?
Ich würde sagen, dass hat damit zu tun, das erstens "Blank Generation" mit der beste Song von ihm ist, aber auch weil ich das Format 7" liebe und ich damit viel Leidenschaft, ungetrübte Leidenschaft verbinde. Danach kam nichts mehr was mir so viel Freude bereitet hat. Ich bin denen nachgejagt und hab geschwitzt. Klingt doof, weiß ich.
Wie würdest Du "Blank Generation" in die Geschichte von Punk einordnen? Orientierte sich Hell an musikalischen Vorbildern, oder war er vielmehr derjenige, der zum Vorbild wurde? Hat er entscheidende Impulse gesetzt, oder machte er nur Rock mit anderen Mitteln?
Also ich glaube irgendwie ist der zuallererst Schriftsteller, und ich weiß um seine sexy Ausstrahlung. Die ist ja ähnlich die einer Schreibmaschine. Ich meine keine Adler von der Bullenstation, sondern die kleinen schwarzen die man treten muss. Ja da hat er sich gesagt, mach ich was draus und ist da bestimmt über das CBGB motiviert worden. Irgendwie seltsam, dass ich nach 20 Jahren dann vom CBGB eine E-mail bekommen habe, dass ich auf ihrer Newsletter-Liste bin. Ich liebe auch Tom Verlaine, ist bestimmt kein Zufall, dass die Beiden zusammenkamen. Lang kann das nicht gut gegangen sein. Ich weiß wirklich nicht was Hell für Vorbilder hatte. Ich denke seine Musik hat wirklich was mit den Roots des amerikanischen Volkes und Blues zu tun. Oder generell einfach die Perlen der eigenen Subkultur sind ihm ans Herz gewachsen. Weißt du das "Blank Generation" eine Coverversion ist? Das Original ist "Beat Generation".

Nein, das wusste ich nicht. Es ist ja schon erstaunlich, mit wie wenig Veröffentlichungen Richard Hell zur Legende wurde. War er nur zur rechten Zeit am rechten Platz, oder war selbst die wenige Musik ausreichend für diesen Status?
Der ist eine Ikone, die brauchen nicht viel außer ein paar existenziellen Dingen. Es gibt die Neon Boys, Heartbreakers, die zweite LP, die "The Kid With The Replaceable Head/I'm Your Man", aber nur die 12" Version ist wirklich gut. Ja, vielleicht hat er nicht viel gemacht, aber emotional war er mehr als genug. Es war auch die Zeit, wo man sich die Platten rundgehört hat. Also man hat sich richtig damit beschäftigt und B-Seiten wurden zu A-Seiten. Allerdings nicht bei ihm.
Richard Hell war ja auch eine Schlüsselfigur der New Yorker Downtown-Szene um den Club CBGB's, Patti Smith, Blondie, Johnny Thunders und andere. Vor seiner Platte mit den Voidods gründete er mit Tom Verlaine die legendäre Band Television, die er jedoch später verließ, unter anderem weil Verlaine "Blank Generation" nicht mochte und bei Demoaufnahmen für das erste Album der Band nicht berücksichtigte. Hast Du ein generelles Interesse an dieser New Yorker Szene? Inwiefern ist Hell ein typischer Vertreter dafür?
Also wie gesagt ich mag Television, die haben auch was Magisches. Was Flüchtiges Elegantes, was durch viel Haltung und Stil transportiert wird. Ich mag das aus der Distanz.
Als ich letztens wieder in NYC war, um aufzulegen, war mir die Szene zuwider. Da war ich angeekelt von der Arroganz. Aber New Yorker können bestimme Sachen nicht und wollen die auch nicht können, muss man akzeptieren.

Gibt es andere Songs aus diesem Umfeld die Du ähnlich wichtig findest wie "Blank Generation"?
Es gibt nur einen: "Marquee Moon". Ok, und "Friction", von Television. Vielleicht noch deutsche Grufti-Musik auf den 80ern. Die hatte auch was Unverhohlenes, ist aber nur ein Partikel von dem. Aber wertvoll genug für mich.
Etwas zur gleichen Zeit liegen die Anfänge der englischen Punkbewegung. Bis heute wird sich gestritten, wer Punk eigentlich erfunden hat. Die Amerikaner beanspruchen die musikalischen Wurzeln für sich und was sich daraus entwickelte, die Engländer behaupten, daraus erst Punk gemacht zu haben. Sind diese transatlantischen Animositäten, die sich ja auch später bei Acid House wiederholten, überhaupt relevant für die Musik und die Haltung? Waren die Unterschiede so groß?
Die Engländer sind viel businessmäßiger. Was Jugendkultur angeht, schlachten die natürlich viel aus. Die härtesten Verhandlungen bei Traum haben wir mit englischen Managern, dann kommen die Holländer. Bei den Amerikanern versackt das auch auf Grund der Größe und der Weite des Landes. Die machen nicht mobil und quetschen Leute direkt aus und machen Geld draus.
Mir kam es immer so vor, dass die New Yorker Szene in Hinsicht auf Drogen und Lebenswandel härter war als die englische, und sich das auch in der Musik bemerkbar machte.
Art nouveaux?  Ja, das hat immer etwas Theatralisches, Pathetisches. Was der "normale" Amerikanische Bürger nicht darf, das wollte die Subkultur dort. Weißt du, dass ich Amerikaner bin?
Ja.
Weiß trotzdem nicht viel über die. Mit Anlehnung an die deutsche Kultur, dass gefiel denen bestimmt damals schon, der No Wave-Clique. Ist heute auch noch so, sprich mal mit James Murphy von LCD Soundsystem, der liebt Alexander Kluge, Fassbinder. Und das Village gibt es für den ursprünglichen intellektuellen Ansatz, der wird dort wie im Brutkasten warm gehalten.
Hell selbst hatte lange damit zu kämpfen, viele andere sind gestorben oder verstummten einfach. Haben die damaligen Drogengewohnheiten die Intensität und die Qualität der Musik erst möglich gemacht? Ist es natürlich, dass das nur bestimmte Zeit ein Level halten kann, oder gibt es auch Gegenbeispiele?
Oh, da fragst du mich was, darüber weiß ich zu wenig. Ist nicht ganz meine Szene.
Hast Du den Film "Blank Generation" von 1980 gesehen, in dem Hell und Carole Bouquet die Hauptrollen spielen, den er aber für völlig misslungen hält?
Natürlich, da war ich auch enttäuscht. Das muss ein Fan gemacht haben, und keiner mit Abstand.
Richard Hell war vor seiner Musikerkarriere vor allem als Dichter und Autor künstlerisch tätig, was er ja in späteren Jahren wieder aufnahm. Kennst Du Diese Veröffentlichungen?
Ja klar, die frühen Sachen habe ich alle.
Wo Roger Daltrey in "My Generation" den Text stotterte, um die Aufputschmittel der Mod-Szene zu suggerieren, ließ Richard Hell den Text einfach teilweise ganz weg, zusammen mit der Musik. Ist das eine adäquate Repräsentation seiner Generation, oder nur ein Ausschnitt seines persönlichen Umfelds?
Ja, ich kann das nur für mich so interpretieren: ein gelungenes Feedback ist so gut wie jede gut gesungene Strophe.
Was sind für Dich in diesem Sinne die generationsdefinierenden Songs der folgenden Dekaden?
Sorry, das weiß ich nicht. Diederichsen fragen?

Hältst Du es für möglich die Haltung Hells auch für die Techno-Generation umzusetzen?  Hast Du das Für Dich unternommen, oder gibt es Beispiele, wo das anderen gelungen ist? Oder sind das zwei Paar Schuhe?
Also meiner Meinung nach tue ich das zu einem gewissen Maß. Zumindest gehe ich nicht sklavisch nach Trends und ich baue auch auf Energie, auch viel direkte Energie durch Newcomer, neue Künstler. Ich gehe den persönlichen Weg, nicht den der Technologie, wie Soundcloud etc. Viel ist für mich zu schnell am Ende. ich vertraue auch der Energie des Poetischen, das ist hoffentlich zu erkennen. Klar geht das nicht immer, sonst muss man ein Künstlerlabel machen. Ich mach das ein wenig mit MBF LTD, wo nur noch ich veröffentliche und ganz wenig andere. Ich möchte das wirklich so halten, dass ich dazu stehen kann mit meiner Person. Das hält den Alterungsprozess auf.
---