Posted:
March 22nd, 2010 |
Author:
Finn
|
Filed under:
Artikel
|
Tags:
Detlef Diederichsen
,
Interview
,
Rewind
,
sounds-like-me.com
,
Stan Kenton
,
Tex Ritter
|
No Comments »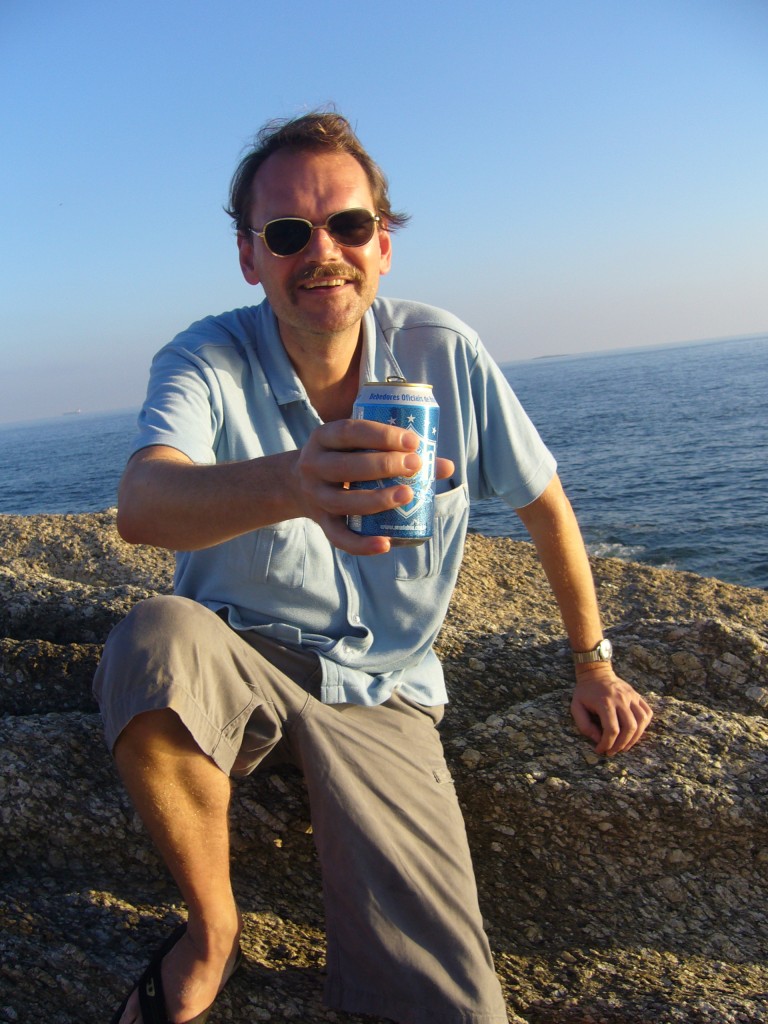 Im Gespräch mit Detlef Diederichsen über "Stan Kenton & Tex Ritter" von Stan Kenton & Tex Ritter (1962).
1983, ein Jahr nach der ersten Zimmermänner-LP, gab es auf der Rückseite der Single "Hockey" von Palais Schaumburg ein Stück namens "Stan Kenton". War das ungefähr die Zeit als Du auf seine Musik gestoßen bist? Wie ist es dazu gekommen?
Interessanterweise hat mich weder die Palais-Schaumburg-B-Seite noch irgendein anderer Tippgeber zu jener Zeit auf Stan Kenton gestoßen, obwohl ich schon damals eine Schwäche für verstiegene Macher mit genialischem Habitus hatte. Meine diversen Jazz-Entdeckungsphasen verliefen an Kenton vorbei, obwohl mich durchaus hochtrabende Third-Stream-Ideen, etwa von John Lewis, Gil Evans und John Carisi, mehr interessierten als expressionistisches Power Blowing. Westcoast-Jazz war allerdings nie so recht mein Ding, von Jimmy Giuffre mal abgesehen.
So dauerte es bis 1999, als mich schließlich ein Tippgeber auf die Zusammenarbeit von Kenton mit Bob Graettinger ("City Of Glass") aufmerksam machte und mich in dem Zusammenhang auch mit weiteren Kenton-Alben bestückte. Zur selben Zeit hatte ich gerade begonnen, einige besonders hartnäckige Lücken meiner Plattensammlung via eBay zu schließen. So schaute ich auch unter Kenton und fand dort in der Vielzahl der Angebote von Werken dieses sehr produktiven Menschen auch das Album mit Tex Ritter.
Es gibt dazu noch eine lustige kleine Geschichte, die ich 1975 las: Zu der Zeit hatte Kenton mal wieder irgendwo lautstark über den niedrigen musikalischen Standard in den USA allgemein herumgepöbelt und über Country-Musik im Speziellen. Sie sei "eine Schande für das Land" (nach dem Gedächtnis zitiert). Der ebenfalls nicht gerade schüchterne und zurückhaltende Southern Rocker Charlie Daniels hatte zurückgepestet, nicht die Country-Musik, sondern Kenton sei eine Schande fürs Land und er würde 1000 Dollar wetten, Kenton könnte niemals eine Country-Platte machen. Woraufhin ihm Kenton eine Kopie seines Albums mit Tex Ritter schickte und eine Rechnung über 1000 Dollar beilegte.
Stan Kenton konnte wahrlich auf eine lange Karriere zurückblicken. Was hat Dich an seiner Arbeit fasziniert, auch im Hinblick auf vergleichbare Musik? Was ist seine Rolle im Jazz?
Kenton war vor allem ein Provokateur, ein Mann, der von Klischees, Ritualen, sinnlosen Regularien, überkommenen Wertekanons zum Handeln getrieben wurde. Womöglich hatte er immer mehr die Welt der klassischen europäischen Hochkultur im Blick, als die des Jazz. Jazz konnte er, es war sozusagen das Handwerk, das er gelernt hatte. Das hätte er wunderbar herunterleben können, aber das Schnöseltum der Hochkultur-Welt machte ihn rasend, da es ihn ausschloss. Und also übernahm er die Insigniarien des Kulturschnösels und applizierte sie auf Jazz. Seine Alben versprachen "Artistry" und "Concepts", seine Kompositionen hießen "Concerto", "Invention" oder "Fugue". Er war unermüdlich, bienenfleißig, Sun-Ra-haft produktiv und dazu ein großer Entdecker und Förderer von Talenten (The Four Freshmen, June Christy, Pete Rugolo).
Dennoch ist er für mich nicht mehr als ein verdienstvoller Mann, ein Ideenmensch, ein amüsantes Großmaul, aber nicht einer, dessen Musik mich wirklich tief bewegen kann. Wobei ich zugeben muss, wohl zirka achtzig Prozent seines riesigen Werks nicht zu kennen.
Warum hast Du Dir aus den zahlreichen Veröffentlichungen Kentons das Album mit Tex Ritter ausgesucht? Was macht es zu so einer speziellen Platte für dich?
Eigentlich ist Ritter für mich der natürliche Zugang, nicht Kenton. Country ist meine Jugendliebe. Mit 15, 16 habe ich fast nichts Anderes gehört und davon ist immer noch einiges zurückgeblieben. Seit der goldenen Ära des Western Swing (vierziger Jahre) gab es nicht mehr viele gelungene Country-Jazz-Fusionen; und die spielten sich vor allem im instrumentalen Bereich ab (Chet Atkins, Jimmy Bryant, Gary Burton). Countrysänger haben immer wieder auch mal Jazz-Standards aufgenommen, Jazz-Sänger erbarmen sich gelegentlich auch Repertoires wie "Across The Alley From The Alamo" oder "I'm An Old Cowhand From The Rio Grande", aber so wie sich Country und Jazz in den fünfziger und sechziger Jahren in geradezu entgegengesetzte Richtungen entwickelten, gab es einfach keine gemeinsame Basis mehr für ernsthaftere Begegnungen.
Die klassische volkssängerische Begrenztheit eines Tex Ritter auf die intellektuelle Überspanntheit Kentons treffen zu hören, ist allein schon ausreichend, um diese Platte interessant und anregend zu finden. Dass dabei aber auch noch eine höchst berührende Musik entstand, deren Emotionalität so schwer fassbar ist, macht sie für mich zum Meisterwerk.
Als das Album 1962 erschein, war es ein kapitaler Flop. Weder die Fans von Tex Ritter noch die von Stan Kenton konnten sich dafür begeistern, in zahlreichen Biographien wird sie immer noch als kuriose Randnotiz geführt, wenn überhaupt. Im zeitlichen Kontext ist das vielleicht nachvollziehbar, aber hätte das schon länger revidiert werden müssen?
Unbedingt. Und jeder, dem ich sie vorspiele, reagiert darauf. Wäre ein schönes Wiederveröffentlichungsitem für Cherry Red oder Hip-o-select. Jedenfalls wäre eine kritische Edition wünschenswert, eine billige Eins-zu-eins-Digitalisierung wäre schade.
Das Album wurde nach der Erstveröffentlichung nicht mehr aufgelegt, oder? Es ist heute ein gesuchtes und teures Sammlerstück. Musstest Du lange danach suchen?
Ich hatte es nie bewusst gesucht, wäre aber sicher daran hängen geblieben, wäre ich in irgendeinem miefigen Record Bin darüber gestolpert. Ich habe ein paarmal später auf eBay nochmal geguckt, weil ich fand, es wäre ein schönes Geburtstags- oder Weihnachtsgeschenk für einige der Lieben daheim, habe sie aber nicht mehr gefunden.
Tex Ritter war Schauspieler und Sänger, er hatte als singender Cowboy in der Tradition von Gene Autry Karriere gemacht, und wurde vor allem durch den Song "Do Not Forsake Me Oh My Darlin'" aus dem klassischen Western "High Noon" bekannt. Schauspieler, die mit Western erfolgreich waren, haben immer gerne Songs aufgenommen, das ging ja noch bis Lee Marvin und Clint Eastwood. Ist das eine völlig legitime Gattung der Countrymusik? Warum ist die Wechselwirkung von Schauspielerei und Plattenaufnahmen in diesem Bereich so ausgeprägt?
Das ist in der Tat ein ganz legitimes Subgenre der Country-Musik der ersten Hälfte des 20. Jahrhunderts, die vielleicht nicht zuletzt deswegen offiziell die Zusatzbezeichnung "… & Western" trägt. Eine ganze Reihe amtlicher Musiker, Bob Wills, Tex Williams, Bill Monroe, nutzten Hollywood zur Karrierebeförderung, was in einer Zeit vor nennenswerten landesweiten TV-Shows, Magazinen, vor Internet, SMS und den meisten anderen heute gängigen Promotionkanälen ein Angebot war, das man nicht ablehnen konnte.
Tex Ritter hatte ja durchaus einen guten Namen in der Geschichte der Countrymusik. Außer diesem Album natürlich, was ist sein bleibender Beitrag?
Er war ein gebildeter Mann. War er nicht sogar Akademiker? Kein Country-Hick, jedenfalls, obwohl ein waschechter Texaner. Aber ich denke die gute Figur, die er mit Patronengurt und Stetson auf dem Rücken von Pferden machte, trug einen guten Teil zu seiner Popularität bei. Und dass er eben mit "High Noon" diesen Klassiker aufnahm. Es gibt einige schöne Aufnahmen von ihm aus den vierziger Jahren, aber er schien musikalisch nie besonders ambitioniert gewesen zu sein. Insofern gehört der Credit für dieses Album auch mehr Kenton. Aber nicht ausschließlich. Letztlich nahm Kenton auch ein wenig den Buena-Vista- und Johnny-Cash-Effekt vorweg: Er inszenierte Ritter als weisen alten Übervater, als eine Art Zenmeister, dessen Stimme allein bewies, dass ihr Besitzer das Leben und die Dinge des Lebens kennt und auf seine komplizierten Fragen einfache, und deswegen umso klügere Antworten gefunden hat.
Ich war übrigens sehr überrascht, dass der mittlerweile verstorbene Schauspieler John Ritter sein Sohn war. Hat der eigentlich auch Musik gemacht?
Keine Ahnung. Das sind Neuigkeiten für mich.
Wie mag Kenton auf die Idee gekommen sein, diese Platte aufzunehmen? Ich habe gelesen, dass er diese Idee schon jahrelang hatte, und Tex Ritter ursprünglich gar nicht die erste Wahl war, sondern ursprünglich Red Foley. Kenton wird zitiert mit der Absicht "to break down some of the bigotry in music". Was mag er damit gemeint haben, und in wiefern war er überhaupt davon betroffen?
Es ist typisch für Kentons Sportsgeist, dass er sich selbst eine dermaßen schwer zu lösende Aufgabe stellt. Und dass er keinen Ansatz wählt, der auf einen jemals schon begangenen Pfad führt. Das Album verrät seine Meisterschaft im Arrangeurshandwerk, die nötig ist, um so souverän mit den Klangcharakteristika von Orchideeninstrumenten wie dem Mellophon zu hantieren. Und seine konzeptionelle Intelligenz, um nun gerade solche unmöglichen Instrumente aufzutürmen und mit der eher limitierten Stimme Tex Ritters zu vermählen. Oder es war umgekehrt und er erfreute sich an der unmöglichen Aufgabe, das richtige sonische Ambiente für Tex Ritters Gesang zu designen. Oder er überlegte sich einfach, was sind die ausgelutschtesten Country-Standards, und wie schafft man es, sie neue und frisch klingen zu lassen, ohne Tonnen von Erdreich zu bewegen. Oder es ging ihm darum, einen Kommentar zum Country-Genre insgesamt zu geben, mit dem er nicht so glücklich war: Nehmt diese Songs und nicht diesen neumodernen Nashville-Trash, wenn ihr es euch zu Erntedank am Kaminfeuer wohl sein lassen wollt.
Ob das mit Foley auch so gut funktioniert hätte, ist fraglich. Foley war ein richtiger Sänger und swingt mitunter, etwa auf seinem berühmten "Chattanooga Shoe Shine Boy" wie Hölle. Aber ob er Kenton zu den Mellophonen getrieben hätte oder ob man nicht eher gemeinsam Country-Songs gejazzt hätte wie später Chet Atkins mit Les Paul ist halt die Frage. Es wäre wohl in jedem Fall ein anderes Album geworden.
Kommerziell ist diese Absicht wohl gescheitert, aber hat er die Bigotterie künstlerisch aufbrechen können?
Nein. Wie auch immer er das gemeint hat.
Kenton war ja durchaus experimentierfreudig veranlagt und hatte schon vorher Probleme gehabt, mit seinen Ideen akzeptiert zu werden. Zu der Zeit der Aufnahmen mit Tex Ritter integrierte Kenton das Instrument Mellophon in seine Band. Hatte er vielleicht dessen Klang schon im Kopf, weil er sich mit seiner Idee für das Album ergänzte? Musste er für eine Stimme wie die Ritters seinen Sound ändern?
Wir betreten hier den Bereich der Spekulation. Meine Vermutung ist, dass diese Besetzung – vier Mellophone, fünf Posaunen, darunter zwei Bass-Posaunen – schon eine Reaktion auf Ritters Gesang ist. Ansonsten darf man auch Alvino Rey nicht vergessen, der hier eine leicht verhallte "Console Guitar" (vulgo Lap Steel) spielt und mit ganz erlesenen Texturen dem fein ausbalancierten, dennoch sehr mächtigen Bläserklang eine spezielle, fast bittersüße Geisterhaftigkeit beimischt. Rey hatte in den vierziger Jahren die Steel Guitar zum Jazz-Instrument gemacht und damit Nachfolger wie Speedy West, Joaquin Murphy und Buddy Emmons maßgeblich beeinflusst. Später war er unter anderem entscheidender Bestandteil des Wahnsinns der Esquivel-Platten und als er vor einigen Jahren verstarb, machte das seinen ungleich weniger talentierten Enkel immerhin so traurig, dass das erste Album seiner Gruppe Arcade Fire eine besonders melancholische Note erhielt.
Ist so ein Album dazu bestimmt, ein Einzelfall zu bleiben, oder fallen Dir noch andere Alben ein, die im gleichen Geiste entstanden sind?
Es gibt in der Tat ein Album, bei dem ich mich frage, ob es nicht eine Reaktion auf Kenton/ Ritter ist: "Gather 'Round" von Tennessee Ernie Ford, einige Jahre später ebenfalls auf Capitol veröffentlicht. Das Repertoire besteht ebenfalls aus besonders abgestandenen Traditionals wie "Old Blue" oder "Darby's Ram" und der Arrangeur, der den klangvollen Namen Jack Fascinato trägt, wartet mit allerlei Flöten, Klarinetten, Bongos und Bläsern auf, um den Sound so Genre-untypisch wie möglich zu machen. Ford ist ein fantastischer Sänger, aber eher ein Fall wie Red Foley, vielleicht etwas weniger hip, etwas mehr Land, trotzdem fähig, höllisch zu swingen, wie nicht zuletzt seine Millionenhit-Version von Merle Travis' "Sixteen Tons" beweist. Zusammen mit Herrn Fascinato gelangt er mitunter zu faszinierenden und ausgesprochen ungewöhnlichen Ergebnissen, das Album ist insgesamt aber verspielter und weniger streng, weniger fokussiert als das von Kenton und Ritter. Das ich deshalb vorziehe.
---