Posted:
March 1st, 2010 |
Author:
Finn
|
Filed under:
Artikel
|
Tags:
Interview
,
Johannes Ehmann
,
Palais Schaumburg
,
Rewind
,
sounds-like-me.com
|
No Comments »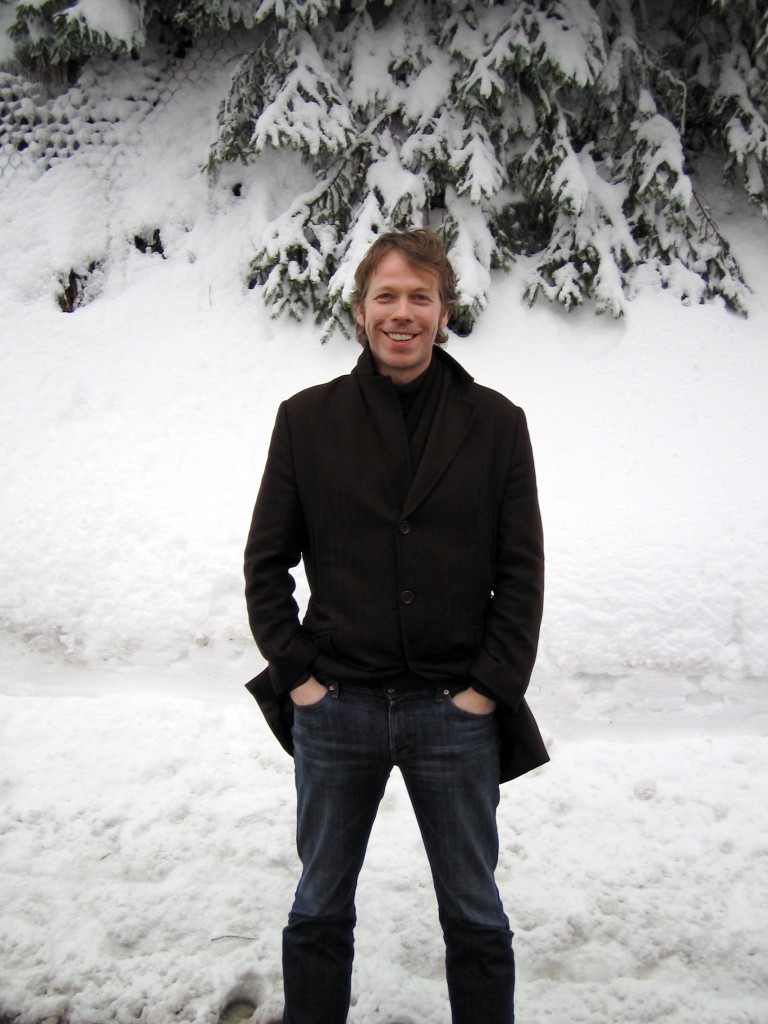 Im Gespräch mit Johannes Ehmann über "Lupa" von Palais Schaumburg (1982).
Wie bist Du auf Palais Schaumburg gestoßen? Hast Du sie zu ihrer Blütezeit in den 80ern entdeckt?
Ja, ich war 16, wohnte in Hagen bei meinen Eltern und ein Schulfreund spielte mir "Wir bauen eine neue Stadt" vor, die dritte Single. Das war etwa 1982. Dieser Schulfreund hatte reiche Eltern mit einer Villa nur aus Glas und Beton, spielte halbprofessionell Golf, trug immer schicke Polohemden – und hatte eine großartige Plattensammlung. Ich weiß noch, dass wir an dem Nachmittag außerdem noch etwas von Chic und Afrika Bambaataa gehört haben.
"Lupa" ist ein Produkt der zweiten Phase der Band, als Holger Hiller ausgestiegen war. Warum hast Du Dir dieses Album ausgesucht, und nicht etwa "Das Single-Kabinett" oder die erste LP? Gefällt Dir diese Phase aus bestimmten Gründen besser?
Komischerweise, wenn ich jetzt so zurück schaue, hat es mich scheinbar schon immer elektrisiert, wenn sich neue Popmusik aus dem Ruhrgebiet, Düsseldorf oder Hamburg mit amerikanischen bzw. afroamerikanischen Traditionen gepaart hat. Und auf "Lupa" hat man beide Einflüsse, die wunderbar zusammengehen. Das Deutsch-Hölzerne, Schräge, Dadaistische und den rhythmischen Flow der New Yorker Latindisco-Szene durch Produzent Coati Mundi. Das ist einmalig und hört sich heute noch so gut an wie 1982, oder besser.
Auf "Lupa" haben Palais Schaumburg noch viel von dem Klang ihrer Frühphase, aber auch viele neue Elemente. Wie würdest Du das Album beschreiben? Gibt es Ausfälle, Highlights, oder ist es ein Gesamtkunstwerk? Was macht den Stil von Palais Schaumburg aus?
Gesamtkunstwerk, natürlich. Der eigenartige warme Funkbass mit 1000 verrückten Drumsounds, die aber fast schon housemusik-artig diszipliniert arrangiert sind, mit ein wenig Bassdrum und Clap dabei. Dazu Tuba, Trompeten und Posaunen, Flöten, Vibraphon und dann die Texte und der Gesang von Walther Thielsch: "3 nach 9/ es stürzt es lacht/ im Liegestuhl ein Federball/ im Frühstücksei ein Tomahawk/ im Bungalow das Kriegsgeschrei" oder "Praterstern Melanie Sommerfrost Harmonie/ Siegestor Silver Blink Meisterschuß/ Bischofsstadt Paderborn Nina Weibull Schweizer Gruß/ Lavaglut MEGGIDDO MEGGIDDO MEGGIDDO".
Die Band war ja schon am Anfang eine der wenigen Bands, die auch international für Aufsehen sorgten. Wichtige Schreiber wie z. B. Chris Bohn bejubelten sie in der englischen Musikpresse, sie hatten Auftritte in legendären Clubs, und sie tourten mit Kurtis Blow zur Zeit der Veröffentlichung von "Lupa". Warum meinst Du hatten Palais Schaumburg diese Wirkung über Deutschland hinaus, und viele andere Bands jener Tage nicht? Waren sie einzigartig?
Sie hatten einige coole Auftritte und die Kritiker und ein paar Musikfreaks waren begeistert, aber meines Wissens haben sie ja weder national noch international einen wirklichen Durchbruch erlebt, trotz zwischenzeitlichen Majordeals. Das hat mich damals schon wütend gemacht. Keiner hat "Lupa" gekauft. Obwohl da bei allem Funk zum Teil richtige Ohrwürmer und Songs mit ganz zärtlichen Momenten dabei waren. Ich hätte gerne erlebt, was sich aus diesem Sound noch entwickelt hätte. Leider habe ich sie nie live gesehen, dafür reichte mein Taschengeld nicht – und 1984 war ja dann schon Schluss, da hatte ich noch nicht mal einen Führerschein.
Offensichtlich wollten Palais Schaumburg diese internationale Reputation untermauern. Die Platte klingt todschick, produziert von dem damals sehr hippen Andy Hernandez alias Coati Mundi von ZE Records und Kid Creole & The Coconuts, aufgenommen in Zürich, gemixt in New York. Und sie sieht auch todschick aus, mit einem stylishen Coverphoto von Anton Corbijn. Haben sie mit diesen Vorgaben erfolgreich gearbeitet? Ist dies eine Produktion, die den Standard damals trendiger Clubmusikentwicklungen halten konnte, oder sogar neue gesetzt hat? Oder waren sie immer noch zu kantig und deutsch, um da über einen Novelty-Faktor hinaus konsistent Erfolg zu haben?
Ich möchte eigentlich nicht glauben, dass hinter "Lupa" ein trendiger Masterplan stand. Vielleicht haben die Jungs von Palais Schaumburg zufällig im Fernsehen den tollen Auftritt von Kid Creole & The Coconuts 1982 im WDR Rockpalast gesehen und Andy Hernandez alias Coati Mundi sofort nach Zürich ins Studio entführt? Entstanden ist jedenfalls ein Werk, das weder im Kontext von internationaler Disco, den damaligen Neue Deutsche Welle-Mustern, noch Düsseldorfer Elektronik oder kaputtem Neubauten-Sound funktionierte. Es ist eine seltene große Pop-Platte aus Deutschland geworden, die ein wenig rätselhaft dasteht und irgendwie ins Nichts führt. Auch schön.
Palais Schaumburg waren ja von Anfang an sehr tanzbar, und hatten ihre sehr eigene Art von Funkyness. Wie Disco sind sie eigentlich? Kann man sie in der Discogeschichte einordnen? Haben sie Spuren hinterlassen?
Im großen Buch der Discomusik werden Palais Schaumburg sicher nicht vorkommen, aber wir haben auf unseren Partys zu einigen früheren Schaumburg-Stücken getanzt, genauso wie z. B. zu dem großartigen "Beirut Holiday Inn" von Abwärts, ebenfalls 1982 aufgenommen. Für mich haben sie zusammen mit einigen Atatak-Bands wie Der Plan und JaJaJa einen großen Einfluss ausgeübt: Synthesizer statt Gitarre, Slapbass, Groove, Zukunft. Nun ja, und Thomas Fehlmann, der hier Synthesizer und Trompete spielt, hat ja nach Palais Schaumburg noch ein wenig Groove-Geschichte geschrieben u .a. auf Kompakt und Plug Research oder als 3MB mit Juan Atkins, Blake Baxter und Eddie Flashin' Fowlkes.
Internationalen Anspruch hat "Lupa" auch bei den Texten, die oft sehr kosmopolitisch sind, und wie bei den Alben von Deutsch-Amerikanische Freundschaft beim Textblatt in einer deutschen und englischen Version vorliegen. Wie findest Du die Texte vom neuen Sänger Walther Thielsch auf diesem Album, auch im Gegensatz zu denen von Holger Hiller? Kann man sie überhaupt vergleichen?
Ein Vergleich fällt mir schwer, aber das Lupa-Textblatt musst Du mir mal leihen, ich hab das nur auf Deutsch. Wie übersetzt man denn: "Eingeschlafen stehst du auf/ Aufgestanden schläfst du ein/ Du sparst mit Licht/ Man sieht dich nicht". So gut war doch sonst nur Peter Hein von den Fehlfarben, der ja auch 81 bis 83 seine schönsten Texte geschrieben hat, wie mir gerade auffällt.
Was hältst Du von der letzten Phase der Band, als Thomas Fehlmann, Ralf Hertwig und das neue Mitglied Moritz von Oswald es mit dem dritten Album "Parlez-Vous Schaumburg?" noch einmal probiert hatten? Hast Du das noch verfolgt?
Nee, das ist an mir vorbei gegangen, aber jetzt, wo wir drüber sprechen, möchte ich die Platte eigentlich gern mal hören…
Ich finde es auch interessant, welche Wege die Mitglieder der Band nach Palais Schaumburg einschlugen. Fehlmann und von Oswald haben sich sehr früh mit House und Techno befasst, und erreichten dann in diesem Feld großes Ansehen. Hiller machte weiterhin eigenwillige Produktionen auf Mute, Timo Blunck machte wunderbaren Pop mit Die Zimmermänner. Kann man das auf Palais Schaumburg zurückführen? Sind das Erkenntnisse, die mit anderen Mitteln umgesetzt wurden?
Ja, das glaube ich. Der Rausch vom unendlichen Housegroove steckt ja schon in den Schaumburg-Stücken drin. Und der Pop. Und der starke Wille, etwas Außergewöhnliches und Neues zu schaffen. Und das zeigt: Da haben sich ganz unterschiedliche Groß-Talente getroffen und sich so lange aneinander gerieben, bis diese Musik dabei herausgekommen ist. Eigentlich eine klassische Supergroup. Der Split und die weitere Entwicklung zu 3MB, Maurizio und Rhythm & Sound ist da eigentlich nur logisch.
Der Zeitpunkt dieses Interviews ist ja sehr passend, "Lupa" wurde gerade wiederveröffentlicht. Denkst Du das Album kann heute noch Musikhörer so begeistern wie Dich damals, oder ist diese Wirkung zeit- und kontextabhängig?
Ich plädiere für zeitlos. Mal sehen, ich werde gleich mal "Sprung über vier Pferde" in einen neuen House-Mix einbauen…
---