Posted:
January 25th, 2010 |
Author:
Finn
|
Filed under:
Artikel
|
Tags:
Interview
,
Justus Köhncke
,
Rewind
,
sounds-like-me.com
,
The B-52's
|
No Comments »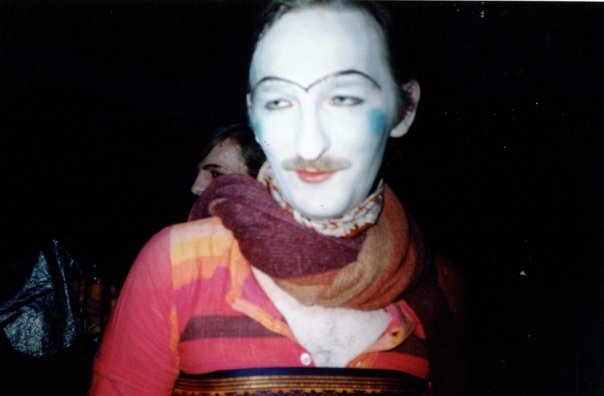 Im Gespräch mit Justus Köhncke über "Play Loud" von den B-52's (1979).
Kannst Du Dich noch daran erinnern wie und wann Du auf die B-52's gestoßen bist? War die Band eine prägende Jugendliebe von Dir?
Absolut. Anfang 1980, als ich 13 war, kam meine 2 Jahre ältere Patchworkfamilienschwester Corinna von einem zweijährigen Intermezzo bei ihrem leiblichen Vater in Berlin zurück in unseren mittelhessischen Provinzschoß der Patchworkfamilie (die derzeit ja noch lange nicht so hieß) – nicht ohne die heiße Ware ihrer Mauerstadt-Teenieclique: Ian Dury, The Specials, The Police (tja, auch) und: The B-52's "Play Loud". Ich war gerade dem Hitparadeausdemradioaufcassettemitschneiden hin zum Cooleleutehörenjaalbenvontollenkünstlern entwachsen, da kamen mir diese Empfehlungen gerade recht. Tatsächlich kann ich noch heute viel für die erste Specials, "New Boots And Panties" von Ian Dury & The Blockheads und unser Thema, "Play Loud", tun. Corinna liebe ich nach wie vor heiß und innig, sie ist Wissenschaftlerin des psychologischen Fachs in Heidelberg, und findet poptechnisch nurmehr Abba, die Carpenters und Anett Louisian gut, von der sie meint, ich müsste die doch auch toll finden, wegen der einfühlsamen deutschen Texte, woran ich mich ja auch versucht hätte. Aber das nur am Rande.
Warum hast Du Dir ihr Debüt "Play Loud" ausgesucht? Was macht das Album so wichtig für dich?
Wichtig ist natürlich, siehe oben, die (pop-)frühkindliche Prägung mit 13, aber andererseits nenne ich hier ja nun auch nicht "Regatta De Blanc" (von Police, aus derselben Tranche). Denn "Play Loud" ist für mich über die Jahre einfach nur gewachsen als besonderes Gewächs, das sie ist, diese Platte – später mehr dazu.
Magst Du das Album als Gesamtkunstwerk, oder stechen bestimmte Songs für Dich heraus bzw. andere nicht so sehr?
Absolut, als Statement, inkl. Design, Kostümen etc. Es sind zwar durchaus ein paar "Filler" drauf ("There's A Moon In The Sky"), aber das tut der Stringenz des Entwurfs keinerlei Abbruch. Neben den bekannten Klassikern ("Planet Claire", "Rock Lobster", "Dance This Mess Around") können mir diese verzweifelt-euphorischen, in genialem Minimalismus zweistimmig arrangierten Gesangssirenen in "52 Girls" bis heute Schauer über die Augen und Tränen in den Rücken treiben.
Ich habe die B-52's früher oft in einem, zugegebenermaßen schiefen, Zusammenhang mit Devo gehört, da die beiden Bands aus der gleichen Zeit stammten und einen originären Sound hatten, den sie mit einem sehr signifikanten Image verbanden. Wie würdest Du die Musik, die Texte und den Look der B-52's beschreiben? Wie mögen sie darauf gekommen sein, so eine unbefangene Brücke zwischen Retro-Jugendkultur und Science-Fiction-Fantasien zu schlagen?
Erstmal gab es meines Wissens eine derartige Retro-Jugendkultur in der Zeit (1977/78) gar nicht wirklich – es gab Teds und Mods, aber bestimmt keine außerirdischen 60s-Zwitterwesen, oder? Und Dein Devo-Zusammenhang ist doch absolut zutreffend (rockmusikfeindliche Kunstfiguren erzeugen klapprige Zukunftsmusik mit komischen Hüten / Frisuren), aber: Devo waren wohl leider am Ende des Tages doch wohl ziemliche Volldeppen als Menschen und / oder Künstler – sagt jedenfalls Eno, der es ja wissen muss, hat er doch die erste Devo-Platte bei Conny Plank produziert, um danach Abstand zu halten. Mit den B-52's hat er hindessen gerne gearbeitet, später.
Sind die B-52's so etwas wie die Prototypen für die Faszination mit der Trash-Kultur der 50er und 60er, die in der Post-Punk-Zeit anfing und immer noch häufig zitiert wird?
Da könntest Du Recht haben. Alle anderen, die sowas referierten, waren später, schon, ja, oder?
Mir ist erst spät aufgefallen, dass die Band gar keinen Bassisten hat. Den Part haben Ricky Wilson und Kate Pierson mit Gitarre und Keyboards übernommen.  Und die Call And Response-Verbindung des Harmoniegesangs von Cindy Wilson und Kate Pierson mit der markanten Stimme Fred Schneiders ist eigentlich eine auch eine ziemlich merkwürdige Konstellation. Warum funktioniert das alles so gut?
Das würde ich ja auch gern mal wissen, schon aus reinem Neid als Musiker, aber jetzt kommen wir zu meinem Kernargument: Auf dieser Debüt-LP haben die B-52's es irgendwie geschafft, eine der zwingendsten, unwiderstehlichsten, gnadenlosesten Dance Musics Of 1979 zu erfinden, ohne 1.) "schwarze" Musik (die in diesem Genre ja bekanntlich und weiterhin zumeist unangreifbar führt) auch nur ansatzweise auszubeuten, sondern mithilfe eines extremistisch metallisch-drahtigen, zurecht den (weißen) Surfsound der 60er integrierenden, und sogar, wie du richtig sagst, 2.) BASSARMEN Soundentwurfs, den es SO NOCH NIE GAB, hinzuknallern. Dance This Mess Around! Dass die B-52's nach ihrer schnellen Entdeckung in Athens / Georgia ihr erstes Album unter der Regie von Chris Blackwell in den Compass Point Studios zu Nassau aufnehmen konnten, dürfte der Tanzbarkeit desselben natürlich auch wenig Abbruch getan haben.
Welche Einflüsse kann man bei den B-52's festmachen? Und welchen Einfluss üben sie wiederum aus?
Ich glaube, die waren von Science Fiction, Einkaufszentren, Sex und gutem Humor beeinflusst. Kein Wunder, dass ihnen Ende der 90er die Ehre zuteil wurde, eine Simpsons-Inkarnation zu bekommen (mit einer "Rock Lobster" -Parodie!). Einfluss, hmm, Lady Gaga? Too Much To Mention!  Die B-52's haben sich ja immer als eine Party-Band verstanden, aber mit ihrem Ansatz waren sie in der Geschichte von Post Punk ziemlich allein, und in der Geschichte von Disco sowieso. Sie werden aber oft erwähnt, wenn es um Schnittstellen der Szenen geht, wie bei in Downtown New York um ZE Records herum oder bei vergleichbaren Zusammenhängen in Europa. Und legendäre Disco-DJs wie Ron Hardy oder Larry Levan waren Fans, und haben ihre Musik gespielt. Welche Rolle haben die die B'52's in der Geschichte von Clubkultur?  Die haben sich, denke ich, sich immer in erster Linie als Partyband with an Edge or two verstanden, mit Disco hatten sie eher weniger zu tun, und mit ihrem Debüt erstmal voll ins Schwarze (sic) getroffen. Interessant, dass sie (bei "Whammy!", 1983) mit einer durchaus basslastigen Annäherung an Funk- und Disco-Stereotypen (also "schwarzes" Terrain) eher Schiffbruch erlitten.
Der frühe Tod des Gitarrristen Ricky Wilson 1985 an den Folgen von AIDS hat die Band und vor allem seine Schwester Cindy erstmal ziemlich aus der Band geworfen. Ein paar Jahre später haben sich Fred Schneider und Keith Strickland öffentlich zu ihrem Schwulsein bekannt und die Band hat sich auch sehr für AIDS-Charity engagiert. Man muss sicherlich nicht homosexuell sein, um sich dafür zu engagieren, aber ich fand die sexuelle Orientierung oder Sex überhaupt ziemlich irrelevant für den Reiz der B-52's. Ich dachte immer, es war eine Band von Boys & Girls, die sich an Boys & Girls richtet. Taugen sie überhaupt als Repräsentanten von sexuellen Kontexten, sollte man sie da überhaupt für vereinnahmen?
Auf diese Frage kann ich nur entrüstet mit einem Zitat aus ihrer allerersten Komposition und Single, "Rock Lobster", antworten: "boys in bikinis, girls with surfboards". Ein möglicher "Repräsentant von sexuellen Kontexten" repräsentiert SO in 1977 mehr als genug für mich!
Gibt es andere Platten der B-52's, die Du ähnlich gerne magst wie "Play Loud"?  Wie würdest Du die nachfolgenden Platten einschätzen, vor allem nach "Wild Planet", die sich ja doch im Sound sehr von "Play Loud" unterschieden?
Wie gesagt, die Funk-Adaptionen haben das Bild eher geschwächt. Die Post-Konsolidierungs-Hits (nach dem AIDS-Tod von Ricky Wilson) "Love Shack" und "Roam" liebe ich sehr, schon allein for the Erfolg of it. Ich sah die in dieser Zeit auch mal live in Düsseldorf, und es war richtig, richtig gut. Und die "Flintstones"-Nummer war auch groß (schon allein für das Wortspiel "The BC-52's", so wie sie immer für geilste Wortspiele gut waren, etwa in "Lava" auf der bewussten Platte, OH wie ich das liebe: "OOOOOOh, hot Lava, red hot lava, turn on your love lava, turn on your lava light, fire, OH volcano, over you", HOT LOVER, yeah!)
Gibt es Qualitäten der B-52's, die Du im heutigen Popgeschehen vermisst?
Hysterisch sind viele, gut manche, wiederholen kann man nix wirklich.
Wie findest Du die aktuelle Comeback-Platte? Die B'52's waren ja früher eine regelrecht umwerfende Live-Band und sind jetzt wieder auf Tour. Gefällt Dir der Gedanke, dass sie nach so einer langen Pause jetzt wieder aktiv sind?
Leider hab ich die noch nie gehört. Hol ich aber nach diesem Dossier jetzt mal nach. Müsste aber schon sehr verkehrt sein, dass ich sie nicht mögen würde, die Einkaufszentren. Und dass die wieder was machen ist sowieso super.
---