Posted:
December 14th, 2009 |
Author:
Finn
|
Filed under:
Features
|
Tags:
Greg Wilson
,
Interview
,
Rewind
,
sounds-like-me.com
,
The Temptations
|
No Comments »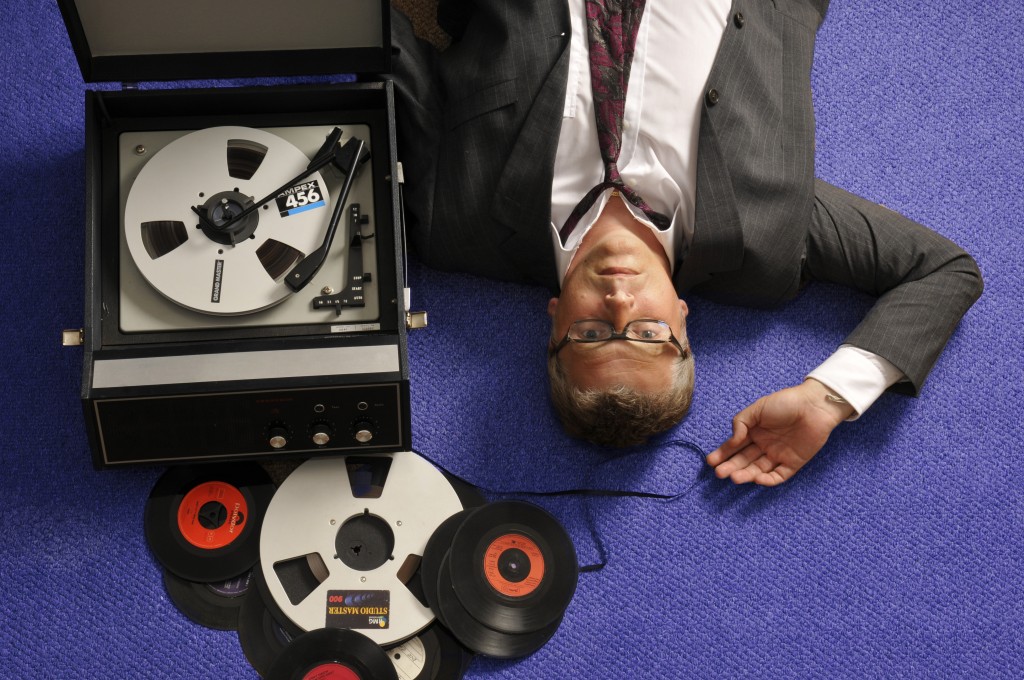 In discussion with Greg Wilson on "Ball Of Confusion (That's What The World Is Today)" by The Temptations (1970).
What is your personal history with this particular song and why did you choose it?
I suppose if I was put on the spot and asked to name my favourite all-time singles, this would be one of those that would immediately spring to mind.
My older brother and sister, like many teenagers growing up in the 60's, regularly bought singles (7″ only in those days of course). They were both into Soul, with Tamla Motown, Stax and Atlantic releases making up the majority of what they owned. These singles gradually fell into my possession and became the foundation of my record collection.
This was one of those records, and the moment I heard it I was awestruck! From the count-in at the start, which I now know was the producer, Norman Whitfield, and the bass line intro, which I now know was a Funk Brother, Bob Babbit, it's clear that you're boarding an aural rollercoaster. And then the vocals come in, and what an opening salvo:
"People moving out, people moving in,
Why? Because of the color of their skin,
Run, run, run, but you sure can't hide…"
We've barely started, yet the picture already painted leaves you in no doubt that we're dealing in harsh realities here. The track is a snapshot of a point in time – with the 60's moving into the 70's it reflects the plight of black Americans, disillusioned by the slowness of change when it comes to their personal freedoms, whilst inhabiting a world that's been changing at breakneck pace. As they try to make sense of the situation they find themselves in, things only become ever more bewildering, the title of the song perfectly capturing the mood of the moment.
Everything about this record is on a higher plane – the song, the vocals, the musicians, the production, it's a whole crew of people right at the top of their game.
Having made such a strong impression on me, a white boy, I couldn't begin to imagine how someone who was black would feel listening to this record. Years later I got my answer when interviewing Les Spaine, one of the DJs who inspired me back when I was starting out. This is what he told me:
"The Temptations were God. You waited religiously for any new Temptations record and I think we grew with them, you know. Afros were growing, political awareness was growing. Norman Whitfield, for me, timed it so well because I was reading Eldridge Cleaver, Huey P. Newton, Angela Davis, all those people. I wasn't a militant, it was just, you know, people were frightened of certain things in America, but what they didn't realise is that all of a sudden you got an understanding and, hang on, there's some brothers and sisters here that can do a bit more than running and singing and boxing, which is not degrading. Not putting down any of those three things – that's what we're supposed to be good at. All of a sudden, here's some academics here and the music evolved from just 'scooby-dooby-do-wah-wah' to like some of the stuff the Temps were singing. Whitfield got a bit long-winded with seventeen-and-a-half minute tracks with two minutes of vocals but, as a young man, I was really into all that underground…
To the majority of the black race, the Temptations were our Beatles. A new Temptations album came out, you bought it and then you listened to it. You didn't go and sit in the box, because you used to have listening booths then, you just bought it. I always remember, it was really funny, I remember buying 'Ball Of Confusion' and I put it on and I left the arm off the machine so that it would go back to it and go back to it, and my dad, who was really one of the most laid back blokes I know, after about two-and-a-half hours of this, must have got fed up of hearing 'and the band played on' and just walked into my room, took it off, snapped it and walked off!"
Full interview here.
How did you experience the political, social and cultural climate the song reflects?
I was just a kid, aged 10 when this was released, fresh out of primary school, but, despite my obvious naïveté, tracks like this, along with others including Sam Cooke's 'A Change Is Gonna Come', Marvin Gaye's recording of  'Abraham, Martin And John', Edwin Starr's 'War' (another Norman Whitfield / Barrett Strong composition, originally recorded by The Temptations, Starr's version also produced by Whitfield) and even stuff like 'Love Child' by The Supremes and Clarence Carter's 'Patches', really struck a chord with me at the time and got me thinking about deeper issues. This is a perfect illustration of the power of music to inform, although the main connection was on an emotional rather than an intellectual level – Soul music, even when the lyrics weren't really saying anything poignant, could still affect me in a profound way.
I remember thinking 'how can these people be treated so badly when they make such wonderful music'. I was certainly aware of the racist (or racialist as they said back then) attitude that black people were somehow lesser than whites – Enoch Powell's infamous 'Rivers Of Blood' speech had taken place a few years earlier and I'd no doubt picked up on the race / immigration debate via the TV, newspapers and overhearing peoples' conversations on the subject, it was certainly a hot potato of an issue back then.
Although I didn't know any black people at the time, unlike many others of my age I fortunately wasn't burdened with the ignorance and prejudice of the previous generation. I never heard any racist remarks from my family, to the contrary, my father was a big boxing fan and his hero was Mohammed Ali (going back to when he was still Cassius Clay), so my own first impression of a black man was totally positive.
I think it was my sister who explained racism to me, and the whole thing crystallized via these remarkable records, which connected with me on a deeper level than the music by white Pop artists (which I was also very much into) because I realized, at a very young age, that this Soul music was tied into a greater struggle.
"Ball Of Confusion" was a part of black music taking its own stance on protest songs. Did it succeed in the attempts to take part in  60's/70's protest culture?
Not just the 'protest songs', but music in general played a major role in breaking down the barriers, causing young people to question their inherited prejudices. It was a big part of shaping peoples' views and leading them away from the bigotry of their parents' generation, whose values were often completely different, and increasingly outdated.
Would you say that protest is valid for all kinds of music, or do you think such content works better with certain styles and contexts than with others?
It's a fine line, but when an artist tackles a contentious subject with real conviction it can result in a powerful message, no matter what style of music. It's the substance that counts.
Are there other protest songs of this or any other genre that were important to you?
The tracks previously mentioned, especially 'A Change Is Gonna Come', which took on a new level of poignancy when Obama was elected president last year, symbolising that very change Sam Cooke prophesised.
Marvin Gaye's 'What's Going On' is arguably the greatest album ever made, and its message is still relevant today – a truly remarkable work. I'm a big Beatles fan, so Lennon's work obviously. Then, of course, there's Dylan – it was 'Blowin' In The Wind' that inspired Sam Cooke to write 'A Change Is Gonna Come' and he, in turn, was influenced by the 'protest songs' of the folk tradition.
Going back to 1939 you have perhaps the greatest of all 'protest songs', Billie Holliday's recording of Lewis Allan's anti-lynching poem, 'Strange Fruit', which, 60 years later, in 1999, Time Magazine named as its 'song of the century'. You can still feel the weight of that song watching old footage of her performing it – its impact at the time was enormous, saying more in the few minutes she took to sing it than someone could put into the many pages of a thick book.
It is impossible to keep this song apart from the production of Norman Whitfield, who played an integral part in Motown's transitional period from their early hit factory days to sounds like these. How would you describe his style and merits in music history?
Norman Whitfield was one of the greatest producers in my opinion – the way he revolutionized the sound of The Temptations was musical alchemy of the highest order. He helped bring black music into the psychedelic era.
What other works of Whitfield do you rate?
His overall body of work is hugely impressive, with the jewel in the crown being one of the quintessential singles, a classic in the truest sense of the term, Marvin Gaye's 'I Heard It Through The Grapevine'. Gaye's version of 'Abraham, Martin And John' has always been a big personal favourite, whilst 'Too Busy Thinking About My Baby' has a great feelgood vibe. Apart from 'Ball Of Confusion' there were so many brilliant records with The Temptations, including 'Cloud Nine', 'I Can't Get Next To You', 'Psychedelic Shack', '(I Know) I'm Losing You', 'Law Of The Land, 'Just My Imagination (Running Away With Me)' and, of course, the gargantuan 'Papa Was A Rolling Stone'.
Moving into the 70's I thought he did some really groundbreaking work with Undisputed Truth before unleashing a whole string of Rose Royce hits. There are two 12" releases I particularly revere, epic dance mixes that show him for the Disco maestro he was – 'You + Me = Love' by Undisputed Truth and 'Do Your Dance' by Rose Royce. I should also mention the incredible atmosphere he could bring to a ballad, Rose Royce recorded some massive club tracks, like 'Car Wash' and 'Is It Love Your After', but they could also take the tempo right down with the best of them – case in point, 'I Wanna Get Next To You', 'Love Don't Live Here Anymore' and 'Wishing On A Star'.
Whitfield is often viewed as a producer who helped to pave the way for Disco and its rich arrangements in the 70's. Do you think this is true?
Absolutely – he's given nothing like enough credit for this. Frank Wilson's production of Eddie Kendricks' 'Girl You Need A Change Of Mind' has been cited as being the template of the 'disco mix', but it should be remembered that Wilson was very much Whitfield's protégé, whilst Kendricks, of course, was previously with The Temptations, working extensively with Whitfield until he left to pursue a solo career. When it comes to Disco, Norman Whitfield has to be viewed as one of the founding fathers, both for his own work and his undoubted influence on others.
Are there other producers who began their career similar to Whitfield, including their further steps towards Disco?
He's pretty unique really, but I suppose Barry White is an example of someone who started out working with Soul artists in the 60's, before going onto fame and fortune as a Disco pioneer with a highly orchestrated style.
Disco is often seen as a hedonistic and escapist reaction to the times described in "Ball Of Confusion", in terms of the people growing tired of protest and wanting to party again. Do you agree with this point of view or did Disco also carry the protest further, albeit in a different way?
In a sense, Disco was the party that followed the gains of the 60's. Major ground had been made in civil rights, women's rights and gay rights, and by the mid 70's Nixon had resigned and the Vietnam War had ended. Disco celebrated a new culture and hard fought freedoms, things that most people wouldn't have thought possible a decade earlier. It was a very hedonistic era, but its very existence, with blacks, whites and gays now exploring common ground, was a powerful statement in itself. It would eventually take a racist / homophobic backlash, culminating in the record burning frenzy at Chicago's Comiskey Park in 1979, to curb Disco's expansion into the very core of mainstream popular culture. However, despite this, although Disco was declared 'dead', it would give birth to subsequent dance movements and its spirit has definitely enjoyed a reawakening during recent times, the term now acquiring a credibility that has eluded it for the best part of 30 years.
You started out as a DJ five years after this song was released. Was this the kind of music you played back then? Would you still play it?
It's more of a track I'd listen to rather than play out. With regards to The Temptations during that early 70's period, 'Law Of The Land' would be best suited for the clubs (I still play it now from time to time), or one of the 60's tracks like 'Get Ready'. Having said that, the one I probably played the most was 'Just My Imagination' – back then DJ's played 'slowies' at the end of the night so the guys could get up close with the girls, and 'Just My Imagination' was one of, if not the greatest 'slowie' in my book.
A cover version of this song also indirectly launched the huge comeback of Tina Turner in the 80's. Do you know the story behind that?
Yeah, it was the one she recorded for the BEF compilation, 'Music Of Quality And Distinction' back in the early 80's. The hook-up with Heaven 17 for that album resulted in another cover of an early 70's Soul classic, 'Let's Stay Together', which took her back into the chart and re-ignited her career, this time without the infamous Ike.
Are there any other versions of this song that you like?
When something's so definitive I find it difficult to look beyond it – anything else is always going to be lacking. Duran Duran once did a version that substituted the line 'the Beatles new record's a gas' for 'killer gangs watch your ass', for which they should hang their heads in shame.
Do you think political Hip Hop like Public Enemy is rooted in songs like "Ball Of Confusion"?
Certainly. If you didn't know the track and read the lyrics you could be forgiven for thinking it was a rap, which it is in a sense – it's mainly vocalized as opposed to sung and actually includes the words 'rap on brother, rap on'. But for some of the lines, 'hippies moving to the hills', 'shooting rockets to the moon', 'the Beatles new record' etc, which nail down the period the track was written, the lyrics could be mistaken as being from the early 80's, when rap came of age via socially conscious recordings like 'The Message' by Grandmaster Flash & The Furious Five and, to a lesser degree, 'Street Justice' by The Rake. 'Bad Times (I Can't Stand It)' by Capt Rapp and 'Is This The Future?' by Fatback.
Is there a song that describes the current state of worldwide issues as "Ball Of Confusion" did in 1970?
Not that I've heard, although I'm sure that someone somewhere, whatever their native tongue might be, will be telling it like it is.
---