Posted:
December 7th, 2009 |
Author:
Finn
|
Filed under:
Artikel
|
Tags:
Burt Bacharach
,
Interview
,
Michael Kummermehr
,
Rewind
,
sounds-like-me.com
|
No Comments »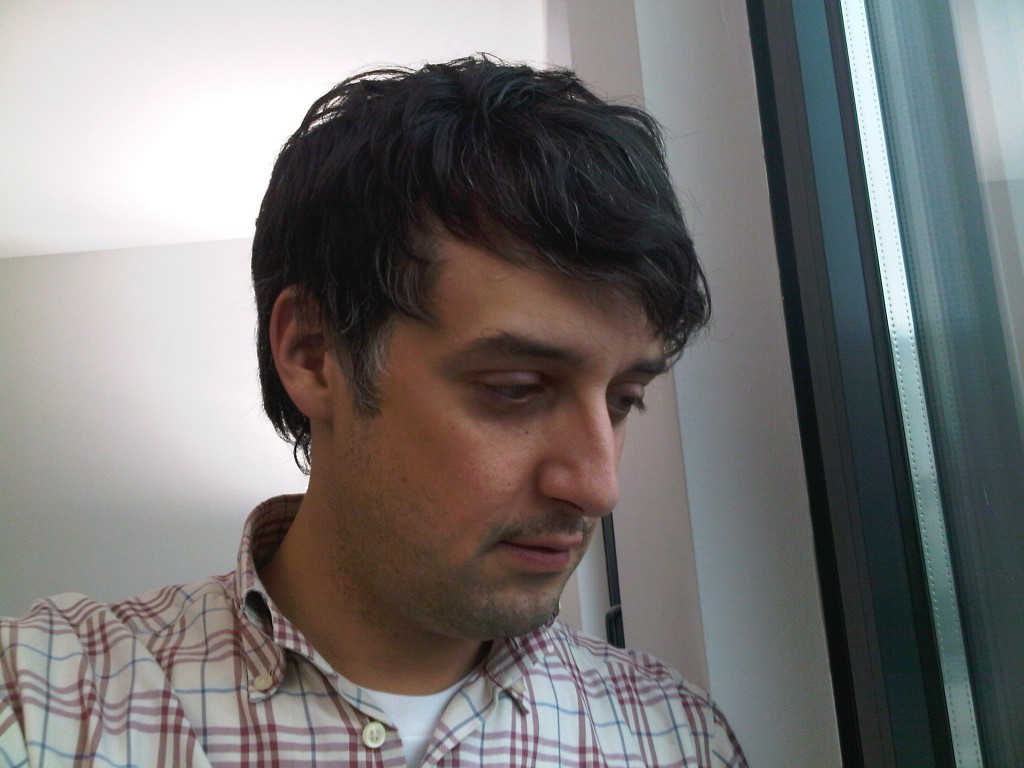 im Gespräch mit Michael Kummermehr über "Alfie" von Burt Bacharach (1966).
Kannst Du Dich noch daran erinnern, wann Du das erste Mal bewusst Burt Bacharach gehört hast?

Ja, ich glaube das müsste im öffentlich-rechtlichen Fernsehen vor der Kabelfernsehzeit gewesen sein. Als ich ein Kind war, Mitte/Ende der 70er, lief "Butch Cassidy And The Sundance Kid" mit Robert Redford und Paul Newman. Einer der Westernklassiker, den man aber als Kind komisch findet, weil die Cowboys auch Fahrrad fahren und oft verliebt sind. Besonders "Raindrops Keep Fallin' On My Head", von Billy Joe Thomas gesungen, ist einer der Radiohits, die man schon als Sechsjähriger im Ohr hat, was einen aber noch nicht zum erklärten Bacharach-Fan macht. Allein deshalb, weil man in dem Alter glaubt, dass der Sänger seine Lieder da im Radio selber macht. Ich denke, wer Burt Bacharach ist, habe ich im Ansatz erst in den frühen 90ern verstanden. In der Spex gab eine Rubrik namens "Legendäre Typen" (die Spex war damals noch ein reines Herzblutprodukt und heute vergleichbar mit einem gut gemachten Blog, also in Themenauswahl und Meinungsmachertum sehr subjektiv, sehr unberechenbar, oft gewagt und fast ebenso oft gewinnend charmant). Diese Reihe handelte von einflussreichen Über-Kreativen wie Arthur Baker, Tony Wilson und… Burt Bacharach – Ein Hugh Hefner mit Steinway Flügel. Das war ungefähr zu der Zeit als, die Interpretationen von "Look Of Love" von Wild Bunch und "Say a Little Prayer" von Bomb The Bass herauskamen.
Übrigens: Wenn man alte Tapes von Soul II Soul oder Wild Bunch Warehouse Parties der späten 80er und frühen 90er hört, ist man erstaunt, dass da 60ies-Instrumentals von Schifrin, so wie den Ventures oder Shadows liefen. Der Name Bacharach fiel mir auch immer auf, wenn wir auf der A61 von Ludwigshafen nach Köln gefahren sind: Dann passierte man die Autobahnausfahrt Bacharach. Ein Städtchen am Rhein im Kreis Mainz Bingen. Bestimmt süß und gutes Essen gibt es da sicher auch. Ich war noch nie da.
Bacharach hat unzählige Klassiker geschrieben. Warum hast Du Dich für "Alfie" entschieden? Was macht den Song so speziell für Dich?

Haha! Frage 2 und schon kommt die rhetorische Frage. Meine Frau und ich haben uns den – jedenfalls kommt es meinen Eltern so vor – bourgeois-exzentrischen Luxus erlaubt, unseren Sohn Alfie zu nennen, ohne Zweitnamen und andere Tricks. Im Standesamt in Pankow, wo ich die Geburtsurkunde abgeholt habe, war deswegen auch echt "High Life". Die Bediensteten fanden Vor- und Nachnamen einfach oberniedlich. Die Damen um die 50 hatten Tränen der Rührung in den Augen, bevor es Schlag 11.30 in die Mittagspause ging. Meine Frau Andrea kam auf die Idee, Alfie, Alfie zu nennen. Sie fand das Lied schön und wollte einen englischen Namen, den man im Deutschen so aussprechen kann, wie man ihn liest. Weil wir eine Erinnerung an unsere schöne Zeit in London haben wollten und weil unser Kind auf keinen Fall einen dieser Kollwitzplatz-Namen bekommen sollte, Luca oder wie die alle heißen. – Ich meine, Luca oder Leon sind absolut süße Namen, auch diese bildungsbürgerlichen altdeutschen Namen sind spitze, aber deren Individualisierungstauglichkeit geht vor unserer Haustür leider gegen Null.-
Ich muss noch immer an diese Vorlesung in Rechtsphilosophie denken, in der Professor Pawlowski den Hegelschen Weltgeist erklärt hat. Er meinte (das ist 17 Jahre her), dass in zehn Jahren Namen en vogue seien werden, die wir heute (also damals) als unpassend empfinden, und dass dann die zukünftige (also die heutige) Mehrheit, diese Namen als sehr schön und würdig für die eigenen Kinder empfinden würde. Dass also die Mehrheit bzw. die Welt durchdrungen von dem Geist sei, ihren Kindern solche Namen zu geben. Das sei mehr als Gruppenzwang und mehr als Mode. Ich fand es ein bisschen unheimlich. OK…zurück zur Frage. Wir fanden das Lied so gut, dass wir uns gegen den herrschenden Weltgeist gestemmt haben.
Wie bei den meisten Songs von Bacharach gibt es auch für "Alfie" diverse Interpreten. Welche Version ist Dir am liebsten?
Ich bin kein solcher Nerd, um hier alle abschließend aufzählen zu können. Es gibt Versionen von Cher, Cilla Black, Barbra Streisand, Dionne Warwick, Stevie Wonder, den Carpenters. Joss Stone? Die ersten Versionen habe ich um 1989 bewusst gehört, in einer Phase, in der man weiße 501 und sein erstes Fred Perry trägt und denkt, man sei jetzt Mod, etwas was ich heute aufs Tiefste bedauere. Da gab es eine Version vom James Taylor Quartet, auf ihrer ersten EP, die "Mission Impossible" hieß. Eine 12 mit weißem Cover und roter Schrift auf einem Label namens Re-elect The President. Das war so eine Ansammlung instrumentaler Orgeljazz-Coverversionen, von Hits wie "Goldfinger", "Mrs. Robinson" und "Alfie". Ziemlich dudelig und eigentlich sehr unspektakulär. JTQ war die Nachfolgeband der Prisoners, aber diese Platte war eher komisch. Zeitgleich hatten mein Bruder und ich uns noch eine Best Of von Dionne Warwick und eine Best Of des Motown-Frühwerks von Stevie Wonder zugelegt. Auf allen drei Platten war "Alfie" vertreten. Ein Wink des Schicksals.
Gibt es andere Songs von Burt Bacharach, die Dir ähnlich wichtig sind?
Ich hab neulich erst bemerkt, dass "We've Only Just Begun" – mein Lieblingsstück der Carpenters – von Paul Williams ist. Ich dachte immer, dass stammt von Burt Bacharach. Ich mag "Close To You" weil es perfekt beschreibt wie es ist, verliebt zu sein. Da sieht man die Schmetterlinge, die einen umflattern wie in einem Disney Film förmlich vor sich und man hat Sonnenschein auf der Haut, riecht die Blumen und den Blütenstaub. Und ich mag "Who Are These People", ein ziemlich politisches Stück für eine Bacharach-Komposition. Und dann gefallen mir ganz arg "Look of Love" und "This Guy's In Love With You". "Arthur's Theme", die Co-Komposition mit Christopher Cross, hat es mir irgendwie gleichfalls angetan.
Wie würdest Du die Musik von Bacharach beschreiben? Was macht ihren Reiz aus?

Bacharach ist eines der Beispiele des professionellen, routinierten Pop-Songwritings. Routine heißt da aber nicht a-b-c-fertig, sondern es heißt, sich auch jedes Mal aufs Neue wieder selbst zu übertreffen, unberechenbar zu sein, hochintelligent, aber goutierbar, alle Bildungsschichten und Altersklassen gleichermaßen anzusprechen, so ähnlich wie es unser Freund Sponge Bob macht. Und immer klingt das Gesamtwerk so, als habe es Burt gerade aus dem Ärmel geschüttelt. Die größte Arbeit besteht darin, es spontan, leicht und einfach aussehen zu lassen, und die ganze Arbeit und die vielen Liter Schweiß, die in so einem Stück stecken, vor den Leuten, die das genießen sollen, zu verstecken.
Das ist so ziemlich genau das Gegenteil von prätentiöser Kunst. Ab und an steht man ja in einer Galerie und denkt, dass alles, was der Künstler da gemacht hat, war, sich vergebens zu bemühen, seinen ideenbefreiten Mist als harte inspirierte Arbeit zu präsentieren. Bei Stücken von Burt Bacharach ist es umgekehrt. Auf Wikipedia findet sich ein treffendes Zitat von John Zorn zu Bacharachs Schaffenskraft und was seine Musik ausmacht. Ich verzichte auf dessen Wiederholung, aber das trifft es ziemlich genau. Man muss sich nur die letzten 10 Sekunden von "Raindrops" anhören, die Reprise, dann wird klar, was John Zorn meint. Bacharachs Musik ist wie Art Déco.. wie New York, wie Amerika, da wo Amerika gut ist. Es schöpft aus dem Vollen, es ist Technicolor, aber voller winziger liebevoller, funktional sinnvoller Details und trotzdem aus einem Guss. Es ist Musik aus einer besseren Welt. Einer Welt vor dem Schmutz, wie sie in den westlichen Mainstreamfilmen aus der Zeit vom Ende des Krieges bis 1966 dargestellt wird, ein Ort voller (im wesentlichen) kultivierter und aufrichtiger Menschen, die auf der Straße Hüte und Zuhause Krawatte tragen.
Bacharach symbolisiert auch die Überlegenheit der Pop-Kunst im zivilisierten (und zivilisierenden) Kapitalismus gegenüber der in anderen Systemen. Das Paradoxe ist dabei, dass großer Pop stets und heute noch wesensimmanent kapitalistisch ist, auch wenn der Pop-Diskurs und diese ganze Rezeptionsmaschinerie vorgeben, das nicht zu sein. Kapitalismus und guter Pop bedingen und befruchten sich gegenseitig. Das beste Beispiel ist Bacharachs Schaffenszeit im Brill-Building in New York. Das war industriealisiertes Pressure Cooker-Songwriting. Vielleicht kommen unter materiellem Druck ja die besten Ideen zustande und vielleicht ist jede andere Ansicht Wunschgedanke und Rechtfertigung des, auf Kosten der desinteressierten Allgemeinheit alimentierten, Kulturbetriebs.
Ist der Status von Bacharach als einer der bedeutendsten Songwriter revisionsbedürftig oder völlig legitim?
Absolut legitim. Ich denke, dass er in der Öffentlichkeit auch so wahrgenommen wird. Er wurde ja zwischenzeitlich in diese Easy Listening/Fahrstuhl-Muzak-Kiste gesteckt, aber das hat ihm nicht geschadet.
Welche Rolle spielt Bacharach in der Popgeschichte? Wie zeitlos ist er?

Dieses Jahr ist "Burt Bacharach With The Sydney Symphony Orchestra: Live at the Sydney Opera House" erschienen. Wenn man das hört, wird einem klar: Burt Bacharach ist Pop-Klassik. Es ist so präsent, dass es mir als Teil der popkulturellen Kollektivpsyche vorkommt. Seine Stücke sind eine Art platonischer Idealzustand von Popmusik, während 99,99% der sonstigen Popmusik verzerrte Schatten an der Höhlenwand der Realität sind.
Gibt es andere Songwriter, die Du für vergleichbar hältst, stilistisch und kompositorisch? Kommt jemand an ihn ran?

Wenn man die richtigen Nerd-Freunde hat, verbringt man viel Zeit damit, herauszufinden, wer der tollste Songschreiber der Welt ist. Es macht viel Spaß, bei solchen pubertären Pop-Kultur-Diskussionen mit Mojo-Abonnenten und Typen wie Dir, Frank Wiedemann oder Lars Dorsch große Namen in den Ring zu werfen: Paul McCartney natürlich! Mit Abstrichen John Lennon. Brian Wilson selbstverständlich, Jorge Ben, Stevie Wonder, Rod Temperton, Todd Rundgren, Paul Wiliams, Joni Mitchell, Tony Joe White…Es gab und gibt sehr viele talentierte Menschen. Arrangement-technisch könnte man vielleicht noch Lalo Schifrin und Michel Legrand nennen. Aber keiner verbindet Pop, Jazz, Klassik und zeitloses Songwriting so genial und frappierend leichthändig wie Burt Bacharach.

Bacharach hat immer sehr darunter gelitten, dass man ihn aufgrund seiner Popularität im Easy Listening-Fach abgelegt hat, obwohl seine Songs musikalisch sehr komplex sind. "Alfie" ist ja auch kein gewöhnlicher Popsong. Sind solche Kategorisierungen eine Art verunglimpfende Abwehrreaktion, weil man die Musik nicht fassen kann und sich vor einer ernsthaften Auseinandersetzung damit drücken will? Oder geschieht so
etwas nur aus Neid?

Nein aus Unwissenheit. Wer könnte denn so vermessen sein, da neidisch zu sein?
Ist Easy Listening vielleicht nicht sowieso eine der sinnlosesten Kategorien der Musikgeschichte?
Hahaha…als Kategorie oder als das, was man in diesem Fach findet? Musik, die sich über die Funktion definiert, besonders unaufdringlich zu sein und möglichst nicht stattzufinden, das ist äähm- komisch. Dieser Easy Listening-Tongue in Cheek-Mini-Hype Mitte der 90er wurde dann ja von der nächsten Raumausstatter-Musik im Zuge von Kruder und Dorfmeister abgelöst. So Duftmarken-Musik hatte natürlich auch Vorteile. Man wusste auf der Türschwelle eines Café oder einer Bar, welches ästhetische Konzept der Pächter und das Personal mit Stereo-Hoheit hatten, und wenn es einem nicht passte, konnte man auf der Ferse umdrehen. Heute haben alle ihre Macs an der Anlage hängen und fast überall läuft Minimal-Geknister im Zufallmodus. Nur bei Starbucks läuft Nat King Cole, was, neben vielen anderen Dingen, für Starbucks spricht.
Bacharach hatte eine kongeniale Partnerschaft mit dem Texter Hal David,und sagte einmal, dass er den Text für "Alfie" nicht nur für einen der besten Texte Davids, sondern für einen der besten Texte überhaupt hält. Würdest Du dem zustimmen? Was bedeutet der Text für Dich? Hat er eine Art zeitloses Identifikationspotential?
Hal David und Burt Bacharach sind als Team unschlagbar. Die Texte von Hal David sind das Ying zu dem Yang der Musik von Burt Bacharach. Alles was hier zu Bacharachs Musik gesagt wurde, gilt für die Texte von Hal David. Dessen Lyrik ist ebenfalls ein Teil der kollektiven Pop-Psyche. Die Summe David und Bacharach ist dann wieder mehr als die Summe der Einzelteile. Der Text von Alfie ist die die Popversion von Jesus' Bergpredigt, nur kürzer und auch für Leute, die nicht an Gott glauben. Ein charmanter Appell an einen Sünder, keiner mehr zu sein. Pfeil. Herz. Treffer.
Gibt es andere Texte von Hal David, die Du besonders magst?

"Close To You" aus den oben genannten Gründen. Das Gefühl der Liebe in einfacher metaphorischer Sprache beschrieben, aber nicht statisch, sondern sehr bildlich. Burt und Hal schalten das Kino im Kopf an für drei Minuten. Zauberhaft.
Kennst Du "I'm Becoming More Like Alfie" von The Divine Comedy, dass den Rollentypus des Originalsongs aufgreift?
Ja. Und dann gibt es noch "Pity Poor Alfie" von The Jam. Das sind beides – wie "Alfie" – Songs, die – mal mit mehr mal mit weniger Humor – von einem Typen handeln, der ein Luftikus ist, aber am Ende des Tages unglücklich. Alfie ist ja das Synonym des charmanten Herzensbrechers, dem die Frauen nicht widerstehen können, ein britischer Folklore-Charakter, der englische Filou, der Stenz, der Hallodri mit dem Don Juan-Komplex, der sich Frauen zur kurzfristigen Lustbefriedigung nimmt, der sich holt, was er braucht. Und der -welch Wunder- trotzdem nicht glücklich damit wird.
Wie wichtig ist der Film für den Song? Schwingt Michael Caine immer mit, wenn Du ihn hörst?

Ich glaube ja. Der Film visualisiert die Assoziationen. Andererseits, das Lied ist so ein Überding. Vielleicht überstrahlt es auch den Film.
Hätte man sich das Remake mit Jude Law besser verkneifen sollen, oder ist die Figur allgemeingültig und nicht zeitgebunden? Wie sieht der moderne Alfie aus, oder gibt es ihn überhaupt?

Haha…"Alfie" ist nicht der beste Michael Caine Film, aber der beste Film des Regisseurs Lewis Gilbert – obwohl ich, kleiner Exkurs, seit jeher ein Fan seiner drei Techno-Sci-Fi-Bond-Filme "You Only Live Twice", "The Spy Who Loved Me" und "Moonraker" bin. Definitiv ist "Alfie" mit Jude Law und Sienna Miller einer der allerschlechtesten Filme der Welt ever. Ein quick and dirty Remake eines Klassikers, amerikanisiert, um auch noch die Hausfrau in Minnesota anzusprechen. Einfach ein absolutes Horrorprodukt und unendlich faszinierend in seinem mangelnden Respekt für das Original.
Sounds Like Me 12/09
---