Posted:
November 23rd, 2009 |
Author:
Finn
|
Filed under:
Artikel
|
Tags:
Interview
,
Prefab Sprout
,
Rewind
,
sounds-like-me.com
,
Tobias Rapp
|
No Comments »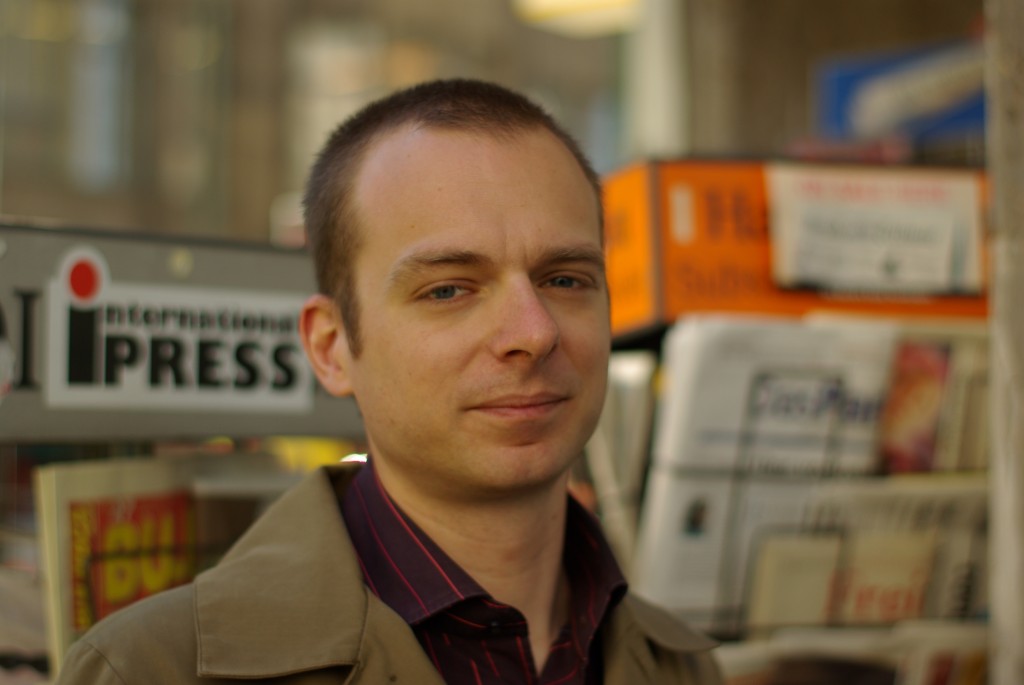 Im Gespräch mit Tobias Rapp über "Andromeda Heights" von Prefab Sprout (1997).
Wie und wann war Deine erste Begegnung mit Prefab Sprout?
Erstaunlich spät. Tatsächlich war "Andromeda Heights" die Platte, mit der ich Prefab Sprout entdeckt habe. Im Grunde fiel sie mir aus dem Himmel, in dem sie spielt, vor die Füße. Ich hatte ganz viel verschiedene Musik in den Neunzigern gehört: Techno, Hiphop, Jazz, Sixties-Pop, alles mögliche, aber nur sehr selten Musik, die von einem so emphatischen Popbegriff lebt, wie Prefab Sprout das tun. Die wollen ja beides: Pop als Zeichensystem benutzen, also in so einem Pop-Referenz-Universum leben, und selbst Pop sein, also mit der großen Geste spielen, "we were quoted out of context, it was great", wie es in "Electric Guitars" so schön heißt.
Meine damalige Freundin hat mich auf Prefab Sprout gebracht – und Thomas Groß, der damals Popredakteur der taz war und über die Platte geschrieben hat. Einen schönen Text, in dem er die Platte als große Geste der Modernisierungsverweigerung beschreibt. Das mag sich damals so angehört haben, neben Drum'n'Bass und Tricky. Von heute aus ist die Platte ja ganz eigenartig zeitlos, finde ich.
Von "Andromeda Heights" aus habe ich mir dann die anderen Dinge nach und nach auch angehört. Natürlich ist mir in den Achtzigern "Cars and Girls" auch schon mal untergekommen, wobei mir damals natürlich entging, dass es ein Answer-Song auf auf "Down By The River" von Bruce Springsteen ist. Ich dachte, irgendwie sei das ein Stück über Autos und Mädchen. Ein super Missverständnis und ganz im Sinne von Prefab Sprout, würde ich vermuten, weil ich das einfach als Popsong gehört habe, er also auch ohne den Meta-Pop-AnteiI funktioniert hat. Doch richtig tiefen Eindruck hat er nicht hinterlassen. Das fing erst mit "Andromeda Heights" an.
Warum hast Du Dir "Andromeda Heights" ausgesucht?
Weil es meine Lieblingsplatte ist. Im Sinne von: eine der ganz wenigen Platten, die ich immer wieder hören kann.
Magst Du das Album als Gesamtkunstwerk, oder gibt es persönliche Favoriten unter den Songs?
Als Gesamtwerk. Ich höre die Platte immer vom Anfang bis zum Ende. Ich finde auch, dass es eines der wenigen Alben ist, das für meine Ohren perfekt ist. Ich habe da nichts einzuwenden.
Welchen Stellenwert nimmt das Album für Dich im Gesamtwerk von Prefab Sprout ein? Wie unterscheidet es sich von den anderen Alben?
Wenn man sich in das Prefab-Sprout-Werk einmal hineinbegibt, dann gibt es keine schlechten Platten, glaube ich. Allein schon weil, wenn man vom Gesamtwerk ausgeht, ja alles Bedeutung bekommt. Da ist dann alles wichtig. Entweder man kann mit den Obsessionen von Paddy McAloon was anfangen, oder nicht. "Andromeda Heights" ist eine Platte über Ravel und die Sterne. Und alles, was damit zusammen hängt. So spannt McAloon mit jeder Platte ein eigenes Universum – außer auf den ersten drei vielleicht, auch wenn man das da bestimmt auch konstruieren könnte.
Gibt es andere Alben, die Du ähnlich gerne magst und wichtig findest?
Eigentlich nicht. Das Ding bei einem Album ist ja die Amtlichkeit. Ein Album ist keine Single, kein Einzelsong. Seit Bob Dylan ist das Album das Format im Pop, in dem die gültige künstlerische Aussage gefällt wird. Wo man zeigt, dass man was zu sagen hat, dass man Atem hat und nicht nur eine Eintagsfliege ist. Das sind ja alles Sachen, die ich gar nicht will. Ich will bei Musik ja das Schnelle und Vergängliche. Ich mag keine Albumkünstler. Ich mag lieber Compilations, Mixe, Durcheinander.
Gibt es in der Diskografie von Prefab Sprout Ausfälle bzw. Musik, mit der Du nicht so viel anfangen kannst?
Ja. Ich finde, dass "The Gunman And Other Stories" nicht so gelungen ist.
Paddy McAloon gilt nicht nur als Songwriter begnadet, sondern auch als Texter. Kann man das bei Prefab Sprout überhaupt trennen? Wie würdest Du die Texte von "Andromeda Heights" beschreiben?
Paddy McAloon ist ein ganz großer Dichter. Jedes Mal kann ich mich wieder über die Lyrics freuen, von jedem einzelnen Stück. Er hat ein paar Themen, an denen er sich so entlang schreibt: Erinnerung, Musik und Liebe. Und für die versucht er, immer wieder neue Bilder zu finden. Nehmen wir mal "Mystery Of Love". Es fängt an mit dem Blick zum Himmel, wie viele Sterne sind da? Klassischer romantischer Topos. Dann sagt er: selbst wenn mir das jemand erklären könnte, das interessiert mich gar nicht. Viel lieber würde ich wissen, was sich hinter Deinen Augen verbirgt. Die meisten anderen Songs wären hier vorbei. Paddy McAloon setzt dem Ganzen aber noch einen drauf und sagt: "Each time we kiss, ignorance is bliss – that's the mystery of love". Das ist dann perfekt. Fast schon ein Brecht'sches Verständnis davon, wie man die Widersprüche des Lebens in der Poesie dialektisch auflösen kann.
Es gab mit "Prisoner Of The Past" und "Electric Guitars" zwei Singles zum Album, die jeweils noch weitere bemerkenswerte Songs hatten, die nicht auf dem Album waren. Kennst Du diese Songs?
Da bin ich ein bisschen überfragt. Ich habe die Singles nicht.
Die diesjährige Veröffentlichung von "Let's Change The World With Music" erklärt die lange Pause zwischen "Jordan: The Comeback" und "Andromeda Heights", aber Paddy McAloon ist durchaus auch als Perfektionist bekannt. Braucht die Musik von Prefab Sprout diese Arbeitsweise?
Bestimmt. Ich habe ihn nie getroffen, ich kann mir die Sachen nur selbst zusammenreimen – aber ich könnte mir vorstellen, dass für jemanden, der auf der einen Seite beinahe erblindet und ertaubt wäre wie McAloon, der schwer krank war, der immer noch Schwierigkeiten mit dem Hören hat, und der auf der anderen Seite so ein Perfektionist ist, es heute schwierig ist, die Musik einzuspielen. Vielleicht ist er sich seiner Sache einfach nicht mehr sicher genug. In seinem Kopf hört er die Dinge ja alle noch.
Paddy McAloon hat über die Jahre einen Status als Ausnahmetalent seiner Generation erreicht. Ist diese Beurteilung gerechtfertigt?
Ganz bestimmt. Eine ganz große Figur, dieser Mann, der da in England auf dem Land sitzt, nicht mehr gut hört, nicht mehr gut sieht, und weiter Album auf Album schreibt, die sich alle da in seinem Arbeitszimmer stapeln…
Gibt es andere Songwriter oder Bands, die Du ähnlich wichtig für Dich sind? Siehst Du irgendwo Gleichgesinnte oder vergleichbare Bands und Musiker, oder ist McAloon ein Einzelfall?
Ja sicher. Viel zu viele, als dass ich die alle nennen könnte. Ich bin doch auch einer von diesen Typen, die James Murphy in "Losing My Edge" karikiert. Das ist nicht so lange her, dass ich damit aufgehört habe, die ganze Zeit die Namen vor mich hin zu sagen. Ob es vergleichbare Leute gibt? Ich weiß nicht. Was ich an Paddy McAloon toll finde, ist diese Gleichzeitigkeit von konzeptioneller Strenge – dieses Ich-schreibe-lauter-Konzeptalben-Ding –, und die Verspieltheit, die das dann annimmt. Man kriegt ihn ja nicht zu fassen. Ich meine: "Earth, the Story so far". Wer kommt denn auf die Idee, daraus ein Album zu machen? 
Ähnlich legendär wie die tatsächlich erschienene Musik von Prefab Sprout ist die unerschienene. Welche davon würdest Du am liebsten hören?
Ich glaube, dass ich die Idee, dass es diese Platten niemals geben wird, genauso schön finde, wie die Hoffnung, dass es sie einmal geben könnte. Denn: ich habe mich jahrelang mit "Smile" von den Beach Boys beschäftigt, das große verlorene Meisterwerk. Habe die Zeitläufe verflucht, die verhindert haben, dass es rauskam. Dann spielte Brian Wilson es schließlich ein, ganz toll auch. Ich hab es mir gekauft, es einmal angehört und dann vergessen. Abwesende Meisterwerke haben ihren ganz eigenen Charme. Von diesen Überlegungen einmal abgesehen: das Michael-Jackson-Musical.
Seit Jahren ist das Schaffen McAloons von erheblichen gesundheitlichen Problemen beeinträchtigt, die er teilweise auch in Musik verarbeitete, wie bei seinem Soloalbum "I Trawl The Megahertz". Dazu hat seine Karriere sowieso einige Tiefen gehabt. Gehört dieses tragische Element bei der Faszination von Prefab Sprout dazu?
Ganz sicher. Das ist ein komplizierter Typ. Schau Dir mal "I Remember That" vom dritten Album "From Langley To Memphis" an. Das ist im Grunde die Skizze eines Lebens in der Proust'schen Glückverweigerungsschleife. Also, dass man sich das Leben, während man es lebt, schon am liebsten als Erinnerung vorstellt. Da ist er gerade mal Ende Zwanzig. Ohne Tragik ist das nicht zu haben.
Meinst Du, er wird noch einmal ein reguläres Album veröffentlichen können? Wie würde das klingen bzw. wie würdest Du es Dir wünschen?
Wenn man Interviews mit ihm liest, hört er sich ja ganz munter an. Ich hab da keine Wünsche. Der soll machen, was er will. Das wird eh super.
---