Posted:
November 16th, 2009 |
Author:
Finn
|
Filed under:
Features
|
Tags:
Interview
,
Jeffrey Sfire
,
Patrick Cowley
,
Rewind
,
sounds-like-me.com
|
No Comments »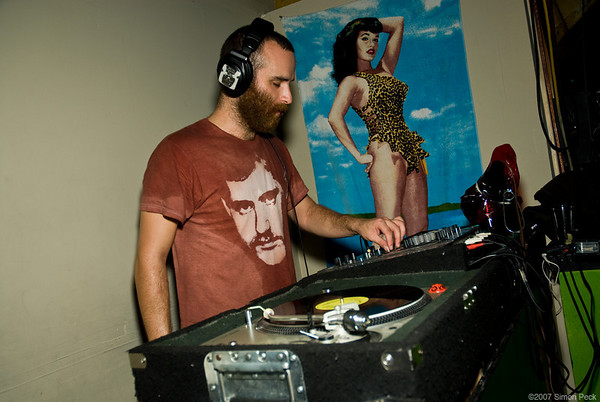 In discussion with Jeffrey Sfire on "Mind Warp" by Patrick Cowley (1982).
What was your first encounter with "Mind Warp"?
I was living in Chicago going to university and I found "Menergy" in a store and thought "obviously this is for me". After that I found "Mind Warp". Instantly there was a connection. I started reading about Patrick and fantasizing about gay disco life in San Francisco. I think every gay kid from my generation is obsessed with a 70's gay fantasy. I had been hanging out in leather bars and got a tour of a closed bathhouse/disco still preserved from the 80's. It was all perfect timing.
Why did you choose this particular album from the works of Patrick Cowley? Are there personal favourites among the songs or do you like it in its entirety?
I love it all. It's great start to finish. It's pretty serious and much darker which I always seem to gravitate towards. It was the first album of his I listened to which is kind of backwards because it's his last but it always stuck out even after hearing everything else. The more I listened to it the more I saw and heard. Singing about technology ("Tech-no-logical world") in 1981 was so interesting to me, and we're still singing about it now 30 years later! If he only knew. Of course "Mind Warp" the song is a favorite, and the delay on that one synth in "They Came at Night" is amazing! "Goin' Home" always intrigued me for some reason. I'd later learnt what it was really about.
"Mind Warp" was the last album Cowley finished before his early death from AIDS in 1982. Were you aware of this when you purchased this album?
No, I had no idea about his life for the first few months of owning the record. I was still really focused on the HI-NRG and the wild disco, and the back room references and everything. But after more research I learned the sad side of it all. The album totally changed for me, and I started to learn more about the AIDS crisis and how deeply devastating it was to the creative world. I think the American government is at serious fault for how out of control it got.
Apparently Cowley's friends described this album as "an album of death". Do you think Cowley's condition seeped through its songwriting and production?
Of course. I think he was making this album literally until his last days. After reading more and piecing it all together it was pretty sad for me to think about someone living such an amazing, talented, flourishing life and it all changing in a matter of a year. The album took on a whole new meaning for me and as I listened deeper I heard more. The song "Goin' Home" is now heartbreaking to me.
Apart from the fact that he was among the first gay celebrities to die from AIDS, how would you characterize Cowley's contribution to the history of gay culture?
It's always good to have a gay doing something that's predominantly straight, like deep synth programming. It gives the children someone to look up to.
Patrick Cowley is rated as one of the most important pioneers of electronic dance music. What would you say is his musical legacy and where is it still visible?
His legacy? His crazy synthesizers of course and his "UP" style of energy. Most disco before was spacey, and floaty, and sultry. But he really just punched you in the face with it. I think he made a connection between European synthy disco, R&B, Rock, and New Wave. He made it special with his use of wild synth sounds and aggressiveness, taking it up up up to the next level. But when it all comes down to it I think a lot of people simply love his aesthetic.
How would you place "Mind Warp" in the line of Cowley's works? What other music of his do you cherish?
"Mind Warp" as a whole is my favorite album. It's super interesting to me. "Menergy" the song is my favorite. My friends nicknamed me that when I was in college. When I first heard it, it blew my mind. But I love everything he made. It's just ALL so high quality and has perfect energy.
Were there records released around that time that you think are comparable in quality? Who would you say are his most important contemporary peers?
For me Simonetti and Meo, Easy Going and Vivien Vee. Both came out a few years before "Get a Little". They have the same kind of energy for me.
Are there any noticeable influences to his music?
I think he was very American about it. Influenced by everything. But honestly my thoughts about his influences have changed since hearing the "Catholic" album. It's really amazing to hear that side of him. I think he toured with Sylvester for years before making "Get A Little", so I'm sure working with all of those musicians was pretty influential.
Are there any current producers that excite you the way Cowley does?
I-F and some of the Dutch guys really get me going, I've been a huge fan of his since I was 16 and "Fucking Consumer" came out. That's one of the few albums I've heard that affected me the same way "Mind Warp" did. Fantasizing about the musician, their life, and what they were doing while making it etc.
A lot of Cowley's songs are classics that are still played out. What makes his sound so timeless?
Legendary things never get tired.
If Cowley would have lived on, what would he have done musically?
It's hard to say but I'm sure he would have continued being legendary and creating amazing music as technology evolved.
---