Posted:
September 13th, 2009 |
Author:
Finn
|
Filed under:
Artikel
|
Tags:
Interview
,
Maurice Summen
,
Rewind
,
sounds-like-me.com
,
Tuxedomoon
|
No Comments »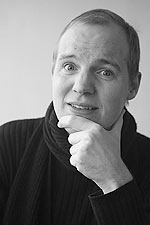 Im Gespräch mit Maurice Summen über "No Tears" von Tuxedomoon (1978).
In meiner frühen Jugend war "No Tears" einer dieser Songs, die in Clubs, in denen alles zwischen Italo Disco und New Wave gespielt wurde, quasi automatisch die Tanzfläche füllten. Bist Du in einem ähnlichen Kontext auf den Song gestoßen? Was ist Deine persönliche Geschichte mit "No Tears"?
Es gab im Münsterland in den 80er Jahren einen schönen Laden namens "Fabrik" in der Kleinstadt Coesfeld. Ein Treffpunkt für Wave, Punk, EBM, Psychobilly und Cure-Fans. Ein fantastischer  Ort: Tolle Frisuren, Domestos-Jeans, Ratten auf den Schultern und ein wirklich bizarrer Musikmix. "No Tears" war ähnlich wie "Surfin' Bird" von den Trashmen  eine Art Schnittmengenstück für nahezu alle subkulturellen Lager.

Der Song hat ja diesen sehr charismatischen Text. "No tears for the creatures of the night". Jeder konnte das für sich auslegen, und so wurde das von der New Wave- bzw. Grufti-Szene bis heute zu Electroclash und Nachfolgendem immer weitergetragen und neu eingesetzt. Aber wie hast Du diesen Text für Dich persönlich ausgelegt? Einsamkeit in der Menge? Entfremdung in der nächtlichen Stadt? Es bieten sich ja viele Deutungsmöglichkeiten…
Meine Eltern haben damals eine schwere Beziehungskrise durchlebt, Schule habe ich nicht bzw. hat mich nicht verstanden, Mädchen waren für mich auch ein großes Mysterium. Sie hingen mit den etwas älteren Dorfprolls herum, nur weil die schon ein Auto hatten!  Na ja, so in etwa habe ich mir das damals in zusammengereimt… Ich war folgerichtig gegen alles! Die "Creatures" waren eben all "die anderen"! Und für die hatte ich einfach kein Mitleid!

Ich habe den Eindruck, dass der Song nie ganz verschwunden ist, er war irgendwie immer da. Was macht diesen Song zu solch einem Evergreen?
Gute Frage. Ich denke dieser Song ist einfach großartig! Er ist vielleicht das "Wild Thing" des New Wave. Und wenn man bedenkt, dass da nie großes Marketing dafür betrieben wurde – Gar nicht auszudenken was mit dem Song passiert wäre, wenn eine große Firma seiner Zeit das Potenzial dieses Songs erkannt hätte…. Egal, der Song konnte sich auch ohne viel Geld behaupten!
Es war nur ein Song auf der Debüt-EP der Band von 1978, aber "No Tears" wurde schnell gleich zum strahlenden Klassiker des Post Punk. Dabei waren die anderen musikalischen Interessen und Ausprägungen auf dieser EP schon mit enthalten, und wurden später auch konsequent weiterverfolgt. Wie reagiert man als Band, die am Anfang steht, auf so einen Überraschungshit? Haben sie alles richtig gemacht?
Sie haben einfach das gemacht was sie machen wollten! Was soll daran falsch sein? Klar hätte man sich von ihnen ein ganzes Album von dem Kaliber gewünscht, aber wenn man sich andere Post Punk-Bands anschaut, sagen wir Devo oder Gang Of Four: Von denen bleibt am Ende auch nicht viel mehr übrig als ein paar gute Songs, oder?
Blaine L. Reininger und Steven Brown hatten elektronische Musik studiert, und verzichteten meist auch auf einen Schlagzeuger, sehr zum Unmut ihres Punk-Publikums. Sie benutzten aber auch Gitarren und herkömmliche Songstrukturen. Wo gehörten sie eigentlich hin? Konnte man sie überhaupt irgendwo einsortieren?
Ich finde die Begriffe wie Post Punk und/oder New Wave umkreisen ihr Schaffen schon gut. Gefällt mir jedenfalls besser, also sie in das Avantgarde- oder "Neue Musik"-Fach zu sortieren, auch wenn sie sich immer sehr stark dorthin bewegt haben…

War Post Punk im Grunde genommen ein Aufbrechen der Rocktraditionen, die bei Punk noch übrig geblieben waren? Wie definierst Du Post Punk?
Post Punk war die erste Pop-Bewegung, die das Schaffen und Aufbegehren im Medienzirkus reflektierte und mit dem Brechen der Formen, also den Rockismen, der 4/4-Taktung oder durch den Einsatz von Maschinen versuchte, die Pop-Rock-Medienmaschine trojanisch zu unterwandern. Leider sind alle Bands im Grunde daran gescheitert, doch nur als Unterhaltungsbands wahrgenommen zu werden. Sie haben das Platten- mit dem Bücherregal verwechselt – und der Popkultur unfreiwillig Entwicklungshilfe geleistet!
Tuxedomoon veröffentlichten zu Beginn bei Ralph, dem Label der Residents. Hast Du auch das Treiben der anderen Künstler dieser eigentümlichen San Francisco-Szene verfolgt?
Ja, ich hatte eine starke Residents-Phase! Und es hat immer Spaß gemacht, diese beiden Bands miteinander in Verbindung zu bringen: Sich vorzustellen, das sie abends zusammen am Tresen abhingen. Zu Blaine L. Reininger hatte man ja ein Gesicht im Kopf, zu den Residents ja eben nicht! Das ging dann gedanklich immer so weit: Vielleicht sind Mitglieder von Tuxedomoon ja Mitglieder der Residents…
Tuxedomoon litten während ihrer frühen Karriere in den USA darunter, als zu "europäisch" wahrgenommen zu werden, und zogen dann schließlich geschlossen nach Europa. Was ist europäisch an "No Tears" und auch der Band, und was nicht? Passten sie besser zur europäischen Szene bzw. den europäischen Labels bei denen sie später veröffentlichten, wie Crammed beispielsweise?
Der Gebrauch von Synthesizern macht eine Band scheinbar immer irgendwie europäisch – aus amerikanischer Sicht! Das sagt man ja selbst Afrika Bambaata nach, europäisch zu klingen, wegen der Kraftwerk-Zitate.
Gefällt Dir andere Musik aus diesem Umfeld ähnlich gut wie "No Tears"?
Klar, aber das geht bei mir tatsächlich von Stücken der Monks über Can, Funkadelic bis Sun Ra oder FSK. Menschen erreichen im Kollektiv, also als Band teilweise unfassbare Größe! Und auch wenn offenbar jede Band starke Autoren braucht – als Navigatoren vielleicht – so ist es eben doch in erster Linie immer das Zusammenspiel, das große Momente wie "No Tears" erzeugt! Es gibt natürlich noch viele andere Faktoren: Glück zum Beispiel…

Wen würdest Du in den gleichen Referenzrahmen setzen wie Tuxedomoon? Gab es damals Gleichgesinnte?
Wie gesagt:  Ich denke der oben angesprochene Post Punk- wie New Wave-Kontext trifft es schon ganz gut. Aber meiner Meinung nach ist es eben der vielleicht stärkste Song jener Zeit. Ähnlich stark wie Anfang der 70er ein paar Stücke der Stooges vielleicht.  Stooges mit Synthesizern! "Big New Prinz" von The Fall bewegt sich für mich aber auch auf einer Augenhöhe…. Oder "Being Boiled" von Human League! Es gibt ja schon ein paar mehr starke Post Punk-Stücke für den Post Punk-Stammtisch!
Durch die Wiederveröffentlichung auf Gigolo landeten Tuxedomoon auf einmal im Electroclash-Dunstkreis. Zwar machten sie auf den nachfolgenden Konzerten und dem Reunion-Album deutlich, worum es ihnen eigentlich ging, aber mir kam es auch so vor, als würden sich die Missverständnisse ihrer Anfangstage wiederholen. Wir hast Du ihre Rückkehr damals empfunden?
Ich habe das nur am Rande verfolgt, aber offenbar haben Tuxedomoon auch heute keinerlei Ambitionen als Party-Act zu funktionieren. Es geht ihnen wohl noch immer um den Bruch mit den Erwartungen. Und: Wer kann sich das im Popgeschäft schon erlauben und sich damit im Pop behaupten? David Bowie vielleicht…
Wie Post Punk sind eigentlich die modernen elektronischen Musikstile, die sich in der Tradition von Post Punk sehen? Gibt es rechtmäßige und unrechtmäßige Erben, oder auch Erbschleicher?
Was meine Begeisterung für Musik angeht, bin ich heute vollkommen pragmatisch. Entweder es gefällt oder es gefällt nicht. Klar: Wenn mich heute etwas umhaut und mir jemand sagt: "Hey! Das Stück ist von 1978″, dann bin ich aus so einem pophistorischem Bewusstsein heraus oft viel begeisterter, als wenn es etwas aus der Jetztzeit ist! Erstaunlich sind allerdings immer wieder junge Leute, die klingen wie meinetwegen Tuxedomoon auf "No Tears", die aber noch nie in ihrem Leben etwas davon gehört haben. Es liegt eben doch vieles von der Musik in der Luft. Nicht in den Archiven!
Hast Du aus der Musik von Tuxedomoon Schlüsse gezogen, die sich auch in Deinen eigenen Aktivitäten wiederfinden?
Expression ist wichtiger als Komposition! Auch wenn diese These mit wachsendem Alter immer unhaltbarer wird.
---